Svetlana Bagdasarov
Staff Writer
Zoë Grill Shish Kebab officially opened for business on April 1, 2006. As soon as I heard about the new Mediterranean-style restaurant, I invited a couple of my friends to help me evaluate the establishment that prides itself on "Creative Mediterranean Cuisine."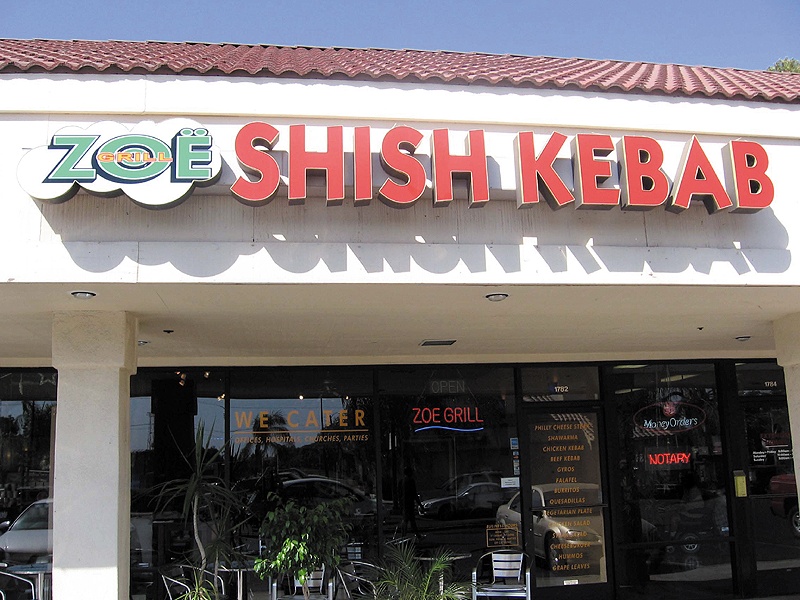 The location of the restaurant could not be more perfect. As a student attending Fresno State, I know all about the need for convenience, as well as complete satisfaction. Not only is Zoë Grill a mere walking distance away from the Fresno State campus, but it also claims to serve the best shish-kebab in town. Many students can't seem to catch up with the extremely fast paced world they live in, so when a food break actually presents itself they usually settle for whatever is the closest and the cheapest. Most of the time that ends up being fast food restaurants or restaurants on campus. Since Zoë Grill is so close to the campus, why not just trade in the routine visit to Subway, Panda Express, or Taco Bell for the delicious and actually nutritious choices offered at Zoë Grill.
I can honestly say that Zoë Grill is worth at least one visit. Personally, I had a very pleasant experience at the restaurant. Even though the place is a bit quaint and not very spacious, it is still extremely cozy and one of a kind. Abstract paintings hang on the walls, melodic sounds fill the air as the chef and owner, Karim Tabsh, prepares the mouthwatering dishes. The more challenging dishes take a little longer to prepare, however, the cook doesn't utilize microwaves; everything from chicken panini, to chicken and beef kebab plates, to Philly cheese steaks is made fresh when ordered. Vegetarian plates are also always offered. I believe the reason why Zoë Kebab promises creativity is because it truly is the most unique and fascinating Mediterranean food offered locally. The chef manages to turn simple meals into beautiful works of art. My friends and I enjoyed the meals as well as the very polite and attentive service we received from the waiters.
I recommend this restaurant not only for its tranquil atmosphere, friendly service, and the wonderful location, but also for the tasty meals that do not stretch our wallets or our waistlines. It is a known and unfortunate fact that obesity is now a drastically increasing epidemic and though Americans try to deny it, many just don't comprehend what a true portion size really is. Well, what I found particularly interesting at Zoë Grill is the amazing understanding of what a realistic portion should be. Health should go hand in hand with delicious food and that is exactly what Zoë Grill provides.
The restaurant is open everyday from 11 AM to 9:30 PM. It is located at 1782 East Barstow Avenue in Fresno, California. It caters offices, hospitals, churches, and all sorts of parties and special occasions. Plus, Thursdays through Saturdays until midnight, students have a discount of a dollar off the overall cost and a free soft drink. For take-out and reservations lease call 559-447-8382 or visit www.zoegrill.com for more information.