Staff Report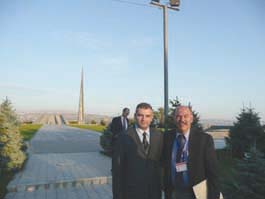 Yerevan State University (YSU), in Yerevan, Armenia is the premiere public university in Armenia and was established in May of 1919, during the period of the first Republic of Armenia. This year marked the 90th anniversary of YSU and a series of celebratory events was held October 1-4 in Yerevan. YSU Rector Dr. Aram Simonyan welcomed the many visitors to the University.
Guests and friends of YSU from throughout the world traveled to Armenia to participate in the events. Prof. Barlow Der Mugrdechian, Coordinator of the Armenian Studies Program, attended representing the Armenian Studies Program and Fresno State. Fresno State and Yerevan State have had a long-standing cooperative agreement that provides for various educational exchanges and projects. Among the guests for the celebration were university presidents and scholars from throughout Europe, Russia, Lebanon, and the United States.
On the agenda for the anniversary celebrations was a two-day conference "University Education for the 21st Century," which ran in conjunction with the other events. Prof. Der Mugrdechian presented a paper on "The Role of the University in the Community," at the conference and also co-chaired a session on "Quality Assurance and University Management." His paper discussed how the role of the University has changed in the United States, especially in relation to the local and regional community. He related this to how the role of the University is also changing in Armenia and the potential for growth in YSU's mission.
YSU officials planned a full four days of activities, including excursions to the famous Geghard Monastery and the pagan Temple of Garni. Participants also visited the Matenadaran (Armenia's manuscript library) and the Erebuni Museum (a museum that has artifacts from the Urartian period) in Yerevan.
A highlight of the official activities was a visit to the Armenian Genocide Monument and Museum in Yerevan. Genocide Museum director Dr. Hayk Demoyan gave a tour of the grounds of the Monument and then accompanied guests on a guided tour of the Museum. At the conclusion of the tour, the YSU guests planted a memorial tree in the gardens by the Museum. Noted political leaders, humanitarians, and other guests have also planted trees in the grove.
The official ceremony marking the YSU 90th anniversary was held on Saturday afternoon, October 3, when YSU faculty and administrators and guests gathered in the YSU Main Conference Hall. Special guests at the ceremony were Tigran Sargsyan, Prime Minister of Armenia; Hovik Abrahamyan, Speaker of the Parliament; and Armen Ashotyan Minister of Education and Science. Following the ceremony participants walked in procession from the University to the Armenian National Academic Opera and Ballet Theatre for a magnificent concert.
Yerevan State University has a long history as the leader in education in the Republic of Armenia and many of the most important figures in the country are YSU graduates.