Staff Report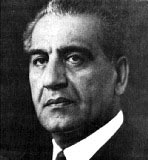 The Armenian Studies Program has acquired the archives of Gourgen Yanikian, donated by David D. Minier, who was the Santa Barbara prosecutor for the notorious murder case, involving Yanikian and two Turkish diplomats in 1973. Gourgen Yanikian (1895-1984), a Genocide survivor who was born in Erzerum, was a prolific writer and an engineer. He lived for many years in Iran before finally settling in Santa Barbara, California.
As a child he had been traumatized by the Armenian Genocide, because had been an eyewitness to the murder of his brother.
In 1973, Yanikian was convicted of the January 27 assassination of two Los Angeles-based Turkish diplomats, after he lured them to his Santa Barbara hotel room. After a trial that brought national and international press, Yanikian was sent to prison where he remained until paroled just months before he died.
During his trial, testimony from Genocide victims was barred, depriving Yanikian of an important argument for the defense. The documents and writings that belonged to Yanikian were collected by the FBI and Sheriff's deputies immediately after the murders.
There are three boxes of materials pertaining to Yanikian's trial in Santa Barbara: Yanikian's personal writings, his personal papers, and a transcript of the jury trial.
The archive is being catalogued and will soon be open for use by scholars.