Zhanna Bagdasarov
Staff Writer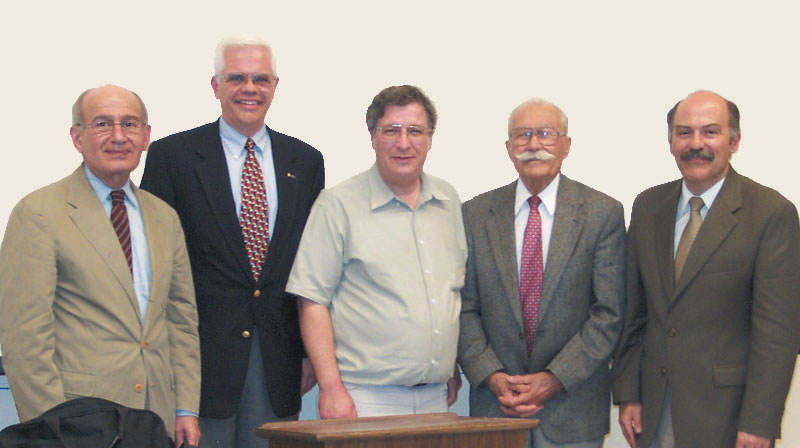 On the evening of March 11 the life and work of William Saroyan was honored by those who knew him and those who valued his work. Students and community members gathered inside the Industrial Technology Building, Room 101, at 7 o'clock in the evening to listen to a panel of speakers present different aspects of Saroyan's life. This was a rare opportunity for members of the community to acquire an inside look at everything Saroyan. "William Saroyan and His World" participants, left to right: Dr. Dickran Kouymjian, John Kallenberg, William Secrest, Berge Bulbulian, and Barlow Der Mugrdechian
During that same weekend Dr. Dickran Kouymjian, Director of the Armenian Studies Program taught a one-unit course on William Saroyan, which allowed the students to get a closer look at Saroyan's novels, short stories and plays. The panel discussion, on "William Saroyan and His World," complemented the course, as well as provided additional information about Saroyan's life.
The panel commenced with a short introduction delivered by John Kallenberg, the president of the William Saroyan Society. Following the opening remarks, Berge Bulbulian, a Fresno writer and historian, began the discussion by presenting his research about the condition of Fresno during Saroyan's lifetime.
He spoke briefly about the blossoming of the city and the construction of the city's structures. Mr. Bulbulian also enlightened the audience about several general statistics pertaining to the city of Fresno during the life of Saroyan.
This informative account was followed by Barlow Der Mugrdechian of the Armenian Studies Program, who presented an elaborate report about Saroyan, the writer. His presentation allowed the audience an opportunity to enter Saroyan's literary world and to gain further knowledge about some of Saroyan's most famous works. From this account, we also learned about important dates in Saroyan's career, i.e. publication dates, and other relevant facts.
The panel was moderated by Dr. Kouymjian, who not only introduced each of the speakers in the panel discussion, but also incorporated his own perspective on various issues discussed within the presentations. It was then that he announced about a change in the program; Ed Hagopian, a writer and friend of Saroyan, was scheduled to speak, but was unable to attend the lecture and share his personal experiences with Saroyan.
This was a small setback, which was quickly resolved by allowing William Secrest, Jr., Fresno County California collection librarian and book collector, more time to share his experiences about collecting Saroyan books and recordings. He spoke briefly about the best places to begin one's search for out-of-print books and provided the audience with a thorough look at how to go about starting one's collection.
He brought several examples of books by Saroyan obtained by him through various venues, including the internet, which according to Secrest is a good place to begin one's search. Secrest also mentioned that some of the more sought out books may cost a serious collector hundreds of dollars.
Dr. Kouymjian concluded the presentation by answering several questions from the audience and allowed time for the speakers to address questions specific to their talks.
The panel was co-sponsored by the William Saroyan Society, Armenian Studies Program, and Armenian Students Organization.
The students in the William Saroyan course definitely benefited from this panel; the information presented not only reinforced things we already learned, but also learned a lot of unknown facts and overall interesting bits of information.