Staff Report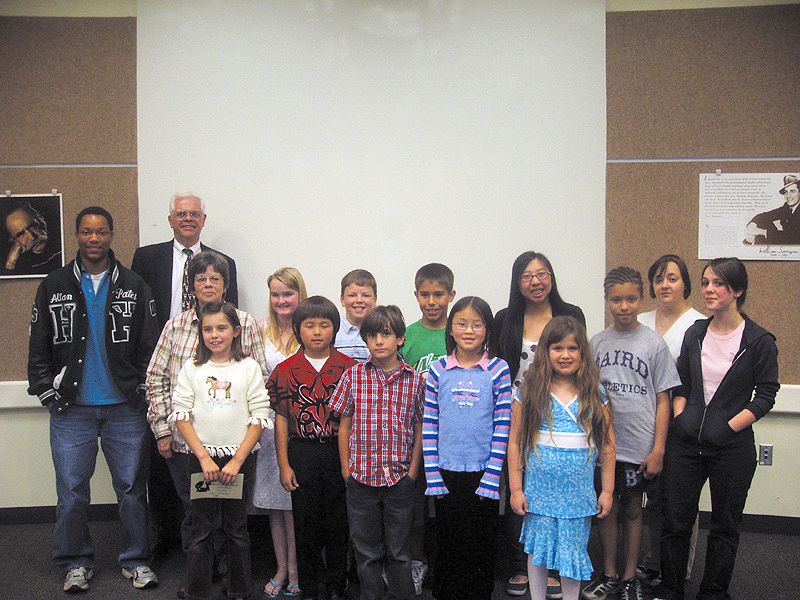 The William Saroyan Society held its annual William Saroyan Story Writing Contest Awards ceremony on Thursday, April 12, at the Woodward Park Regional Library. The theme for this year's contest was "Coming Home."
Barlow Der Mugrdechian of the Armenian Studies Program was the featured speaker at the event, and as he addressed the award winners, parents, and friends, he reflected upon Saroyan's early life and career. "Saroyan's early life experience played a major role in Saroyan the writer," said Der Mugrdechian. "Even though he had a difficult childhood, losing his father at age 3, and being placed in an orphanage, these experiences impelled Saroyan to a career as a writer. He should be an inspiration to all writers."
Awards for the contest were made in six categories: grades 1-2, 3-4, 5-6, 7-9, 10-12 and college. The first place winner in each category receives $100, second place $75, and third place $50.
"Each year, we look forward to reading the creative stories from the participants," said John Kallenberg, Chairman of the William Saroyan Society. "It is our hope that the stories written by these students will help create future professional writers thereby perpetuating the legacy of William Saroyan."
The William Saroyan Society presented the 2007 William Saroyan Story Writing Contest in association with the Fresno County Public Library, Fresno County Office of Education, and Fresno Free College Foundation.
The William Saroyan Society, is a non-profit, public service organization, dedicated to providing education and promoting public interest and information about the life, times, literary works, themes and sentiments of the Pulitzer Prize-winning author and playwright, William Saroyan; to educate the public about the human values depicted in his works; and to promote the heritage of the Armenian/American culture and its unique and rich experience.
For more information about the William Saroyan Society visit their website at http://www.williamsaroyansociety.org