Staff Report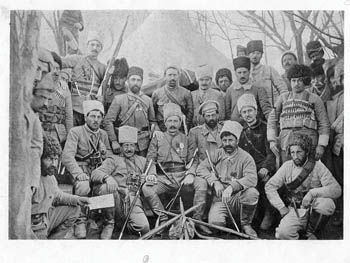 The Armenian Studies Program's collection includes rare books that are difficult to find in libraries around the country, even around the world. One such work is a remarkable album of reproduced photographs entitled Hay kamaworner (Armenian Volunteers). Published in 1916 in Tiflis, the book offers a pictorial glimpse of the volunteer units training and fighting against the Ottoman Empire, with introductions and captions in Armenian, Russian, and French.
A range of experience is captured in the album: portraits of Generals Andranik Ozanian and Smbat Boroyan presented in formal portrait and alongside their troops; the pageantry of the blessing of a volunteer unit at Etchmiadzin and funerals for the fallen; the routine of ranks at rest while meals are distributed; and battalions moving on horseback and marching on foot.
According to the introduction, the proceeds from the sale of the Album were originally intended to help the wounded fighters and the families of those killed in conflict. The Album must have been quite popular, as the copy the Armenian Studies Program has in its collection is already the second edition; the first had been compiled in just a few months and must have appeared earlier in the same year, 1916.
It is interesting to note that a search of the WorldCat cataloging system, which includes the collections of over 70,000 libraries internationally, yielded just four copies of the album: two in the Library of Congress, one at the University of Michigan at Dearborn, and one in the British Library system. A facsimile of the 1916 edition, slightly smaller in size and with an additional preface and afterward, appeared last year in France under the title "Volontaires arméniens, 1914-1916," and is available through the publisher, La Bouquinerie (http://www.labouquinerie.com).