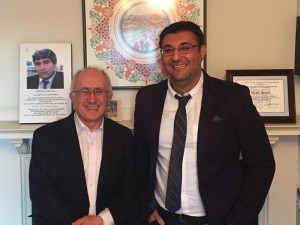 Staff Report
Ümit Kurt Kazan Visiting Research Scholar in the Armenian Studies Program at Fresno State for the 2015-2016 academic year, successfully defended his dissertation Destruction of Aintab Armenians and Emergence of the New Wealthy Class: Plunder of Armenian Wealth in Aintab (1890s-1920s) at the Center for Holocaust and Genocide Studies at Clark University on Tuesday, April 19. Kurt's doctoral committee consisted of chief advisor Dr. Taner Akçam, Dr. Richard Hovannisian, and Dr. Hans-Lukas Kieser.
Dr. Kurt will spend the 2016-2017 academic year as a post-doctoral fellow at the Harvard University Center for Middle Eastern Studies. He is one of several young scholars pursuing groundbreaking dissertation pro-jects under the direction of Dr. Akçam. Recent graduate Dr. Khatchig Mouradian and Kurt are young scholars who received their PhDs in Armenian Genocide Studies and their success represents a huge step forward in the field.
"Without the endless support of Prof. Barlow Der Mugrdechian, Prof. Sergio La Porta and the Armenian Studies Program, as well as the Armenian community in Fresno, this work would not have been accomplished. I am totally grateful for their valuable support," stated Dr. Kurt.