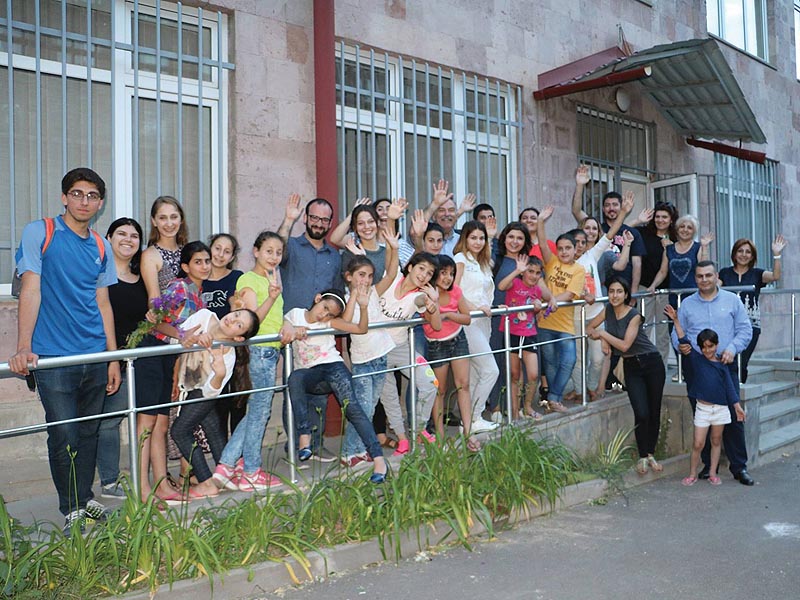 Claire Kasaian 
Staff Writer
Mer Hooys-House of Hope is a California-based non-profit organization that provides a home in Yerevan, Armenia, for girls from severely disadvantaged backgrounds. The Program was established in December of 2008 and is housed in the Nakashian Children's Support Center, a two-story renovated building in the suburbs of Yerevan, named in honor of its benefactors, the late John, Arpine and Jack Nakashian.
Mer Hooys operates in partnership with the Mother Church in Etchmiadzin and the Western and Eastern Dioceses of the Armenian Church of North America. Mer Hooys is dedicated to providing "a safe home, social and psychological services, and comprehensive education in academics and life skills training to young girls from disadvantaged backgrounds in Armenia."
Professor Barlow Der Mugrdechian, Director of the Armenian Studies Program at Fresno State, was involved in founding Mer Hooys. He currently serves as Vice-President of Mer Hooys along with founders President Judge Adrienne Krikorian, Vice-President Dr. Garo Garibian, Secretary-Treasurer Dr. Varoujan Altebarmakian and a dedicated Board. Prof. Der Mugrdechian's interest in the project stemmed from the fact that large portions of Armenia's population lived in poverty after the break-up of the Soviet Union, and Armenia's independence in 1991. According to Prof. Der Mugrdechian "poverty often leaves children in living conditions that make them unprepared for a productive life in society. Girls are usually the most vulnerable."
Mer Hooys currently houses 15 girls from the ages of 7 to16 and 5 girls who are recent graduates over the age of 17. The Program provides counseling and spiritual support for the girls and their families so they can work through their struggles. The younger girls have regular visits from their families because Mer Hooys wants to unify families and bring them closer together in a safe environment. The girls at Mer Hooys attend a neighborhood school and are provided additional in-house academic counseling, as well extra-curricular activities such as learning to dance, sing, and play soccer.
There is also a transitional living area for the girls 17 and older who have graduated from the Program. These girls, who are either going to university or working, are not yet fully prepared to live on their own, or cannot afford it financially. The older girls give back to the Program by helping tutor the younger girls in religion, computers and academics.
During this past summer, Professors Barlow Der Mugrdechian and Hagop Ohanessian led a group of students on the Armenia Summer Study Program 2017. I was able to participate in the trip, and we visited visited Mer Hooys three times.
Prof. Der Mugrdechian stressed the importance of students interacting with local Armenians in addition to visiting historic sites. "Students can interact with and understand some of the issues facing the people in Armenia and develop a relationship with Armenia based on human interaction," said Prof. Der Mugrdechian.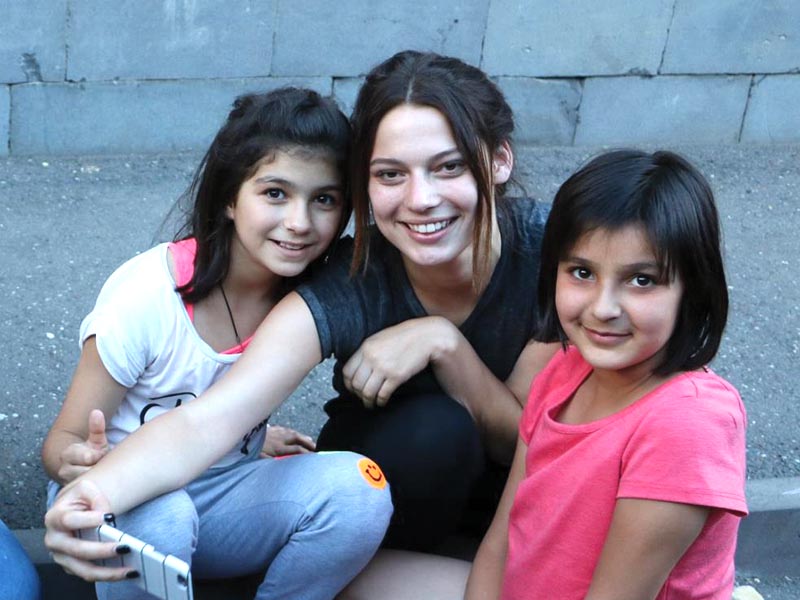 My visits to Mer Hooys made a very deep impact on me. The girls were so happy and full of life, despite everything they have been through. Hearing some of their life stories and experiences broke my heart. Stella, who was the youngest girl in the Program, held my hand the entire time during one of our visits. She would not let go.
The girls loved to braid the hair of the girls in our group. We participated in several activities with the girls, such as playing dodgeball, Armenian dancing, playing cards, and taking silly selfies. The girls loved to play a game that was a mix of dodgeball and "Monkey in the Middle." They were playing dodgeball with a very hard basketball, so on our next visit we brought them a softer bouncy-ball and they were so excited.
After our visit, the girls asked us what our group would be called. When we told them we could not think of a name, they told us our group name would be "Hrashkner" (The Miracles). Leaving the girls was definitely one of the hardest parts about leaving Armenia. Speaking on behalf of the students that went on the trip, I can say that the girls made a huge impact on all of us. Each of us left with a special place in our hearts for these girls and a desire to support the Mer Hooys Program in any way we could.
Prof. Der Mugrdechian said Mer Hooys has some immediate goals, such as stabilizing the annual budget through fundraising. "To do that, we must spread the word about our activities to get more people involved. Once that can be done and a steady income is reached, Mer Hooys would like to open a Program for boys."
For more information visit Mer Hooys to see how you can become involved.