By John Jabagchourian
Editor
One, two, three, now kick with the left . . . then kick with the right, and just like that, students once skeptical of their Armenian dancing skills found themselves holding pinkies and dancing traditional Armenian Shoorch bars (line dances).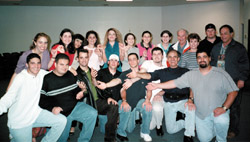 Armenian dance specialist, Tom Bozigian of Los Angeles, held an Armenian dance seminar for Fresno State students the evening of April 3, 2001.
"It was a whole lot of fun learning how to dance," student Erica Ananian said.
Bozigian set up his equipment like a D.J. preparing for a huge dance. Behind the speakers and amplifiers were stacks of CDs, tapes, and LPs with Armenian, Arabic, and even Spanish labels.
"I was really nervous at first thinking that I, Mr. Two Left Feet, would embarrass myself in front of everyone, but Tom created a sense that everyone had the ability to do these dances, and he was right," student Adam Koligian said.
Bozigian first got all 25 students lined up in a large circle in the center of the room and then began to demonstrate the easiest of the steps, the Yerek-meg (three-one). The students picked that one up fairly easy; however, as the night progressed he would teach new steps, each a little more difficult then the previous. The dances included, the Sayat Nova, the Tsatkel (hop), Hing-meg (five-one), Tamzara, Miserloo, and even some Salsa dancing.
While most students were taking frequent breaks, Bozigian was moving non-stop for three hours. Bozigian was very lively and energetic when he taught, often telling stories of how each dance step was created or his experiences of teaching the same steps to others.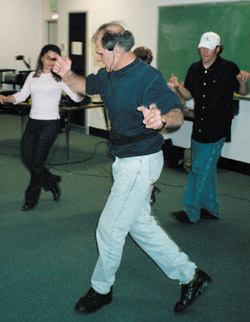 By the end of the evening it was hard not to find a smiling face in the room, not to mention a sore muscle or two.
Bozigian has been dancing all his life. He has devoted his career to the preservation, performance, and instruction of original, pre-1915, Armenian song and dance, and has traveled to Armenia on a yearly basis to continue his research with various institutions and dance specialists. In addition to original Armenian dances, Bozigian also specializes in new Armenian folk dance.
Teaching Armenian dance has led Bozigian on regular tours in the U. S. as well as to the Orient and Europe.
This event was sponsored by the ASO with funding from the Associated Students.
Bozigian returned to Fresno State on May 4 and 5 for another dance seminar open to the public.