Hazel Antaramian-Hofman
Staff Writer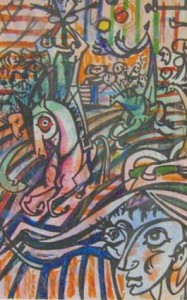 The Armenian Studies Program at Fresno State, in collaboration with the Fresno Arts Council, the City of Fresno, and the Armenian Museum, will host in the month of May a long awaited exhibition of Armenian-American artist, Varaz Samuelian. The work will be displayed on the second floor of City Hall.
A reception and opening of the exhibition will be held at 6:00PM in City Hall on ArtHop night, May 6, 2010.
Samuelian, who signed his work as "Varaz," was a prolific painter-sculptor, who willed most of his paintings and sculptures to the Armenian Studies Program. Born in Armenia in 1917, Varaz, a German prisoner of war in World War II, immigrated to the United States in 1946, moving eventually to Fresno, where he died in 1995. When Varaz spent time in Paris, he studied with such painters as Othon Friesz, André L'Hote and Fernand Léger. He held exhibitions in Paris, Nice, Marseilles, Barcelona, Mexico City, and at several New York galleries, as well as exhibiting locally in Fresno.
Varaz's oeuvre encompassed a wide range of media, including sculpture (bronze, stone), painting (oil, acrylic, watercolor), lithography, pen and ink, and pencil. The artist is well-known for his monumental bronze statue of legendary Armenian hero David of Sassoun, which stands in Fresno County Courthouse Park. Fresno's renowned writer William Saroyan discovered Varaz's raison d'être in his piece Who is Varaz?, when he wrote "Looking, listening, chatting, I thought, 'This man is an artist. He lives art.'"
The City Hall exhibition will consist of known and available pieces of his circus-themed artwork. For more information on the exhibition, you may contact the Armenian Studies Program at 559-278-2669.