Staff Report
While on recent trip to Armenian this past summer, Armenian Studies Program Director Barlow Der Mugrdechian visited the nearly completed Varaz Samuelian Art Center, located in the region of Artik. On September 7 the Armenia Fund (Hayastan All-Armenian Fund) unveiled the completed Varaz Samuelian Cultural Center in Artik, a town near the Gyumri earthquake.
The Cultural Center is named after the celebrated painter and sculptor Varaz Samuelian.
Attending the opening ceremony were Prime Minister of the Republic of Armenia Tigran Sargsyan, Deputy Governor of Shirak Region Seyran Petrosyan, Mayor of Artik Khachatur Varagyan, Executive Director of Hayastan All-Armenian Fund Ara Vardanyan, Chairman of the Armenia Fund U.S. Western Region Ara Aghishian and Executive Director of Armenia Fund U.S. Western Region Sarkis Kotanjian.
The construction of the new center, at a cost of approximately 155 million AMD (U.S. $505,000), was funded by the Armenia Fund U.S. Western Region, through the bequest of the prominent Armenian-American painter and sculptor Varaz Samuelian (1917-1995).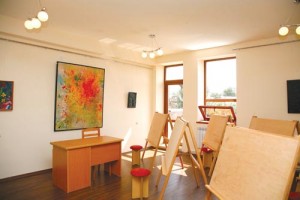 Comprising two stories and an area of 6,000 square feet, the Samuelian Cultural Center will double as a community entertainment facility and an art school. The first floor includes an art gallery (where Samuelian's paintings as well as works by Artik artists will be on display), a cultural-events hall, a chess room, and a computer room. The second floor will feature classrooms for fine-arts and music instruction.
"We are so happy that, thanks to Varaz Samuelian's will, today we are able to build a full-fledged cultural center, where generations will be trained and educated, drawing inspiration from Samuelian's marvelous artistic legacy," said Ara Vardanyan, executive director of the Hayastan All-Armenian Fund.
On his part, Artik mayor Khachatur Varagyan said he expects the Samuelian Center to become a beloved landmark, where the city's residents will be able to participate in a diversity of cultural programs and events, take art and music classes, engage in leisure activities, and have access to computers and the Internet. "We have long felt the need for such a center," Varagyan noted.