Staff Report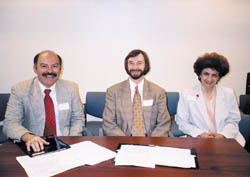 The Center for Middle East Studies (University of California at Santa Barbara) held its Fifth Annual Middle East Studies Regional Conference on Saturday, March 22, 2003.
Dr. Peter Cowe, Narekatsi Professor of Armenian Studies at UCLA, organized a workshop on "Issues in Language Pedagogy: Armenia" as part of the conference. Participating in the workshop were Barlow Der Mugrdechian of the Armenian Studies Program of California State University, Fresno and Dr. Gayane Hagopian of UCLA/UC Berkeley.
The workshop discussed the current state of teaching Armenian language at institutions of higher learning in the United States.  Dr. Hagopian spoke about current linguistic studies which examine the roles of various factors in how well a student learns. Her well researched presentation gave valuable ideas to the participants about how to develop new strategies for teaching Armenian.
Barlow Der Mugrdechian compared two popular textbooks which are currently being used in college classrooms to teach Modern Western Armenian: Dora Sakayan's Modern Western Armenian was compared to Thomas Samuelian's A Course in Modern Western Armenian. Der Mugrdechian's presentation focused on the areas where the textbooks excelled and also areas where improvement could be made. His suggestions also provoked much conversation about the available textbooks and supplementary materials in the classroom.
Dr. Peter Cowe was the chair of the panel and also was a discussant who provided valuable background on the teaching of the Armenian language. He also facilitated discussion for the panel. Among the useful suggestions which were made was a proposal to organize an association of Armenian language teachers.