Gina Jelladian
Staff Writer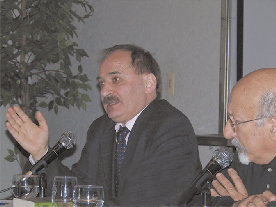 On Saturday, March 15, Turkish author Kemal Yalçin visited Fresno State as part of a nation-wide book tour, accompanied by his London publisher Ara Sarafian. Yalçin was on a speaking tour in conjunction with the English translation of his book, You Rejoice My Heart. Prof. Barlow Der Mugrdechian of the Armenian Studies Program welcomed the audience and spoke about the importance of the lecture, which was part of the Armenian Studies Program Spring 2008 Lecture Series. This was an historic occasion, as it was the first time that a Turkish author has spoken as part of the Lecture Series on campus.
Prof. Der Mugrdechian then introduced Sarafian, who gave a general background about Armenian-Turkish relations, and made brief comments about the significance of You Rejoice My Heart. Sarafian then invited Yalçin to speak, and he eloquently and movingly discussed his work.
Kemal Yalçin was born in Honaz, Turkey and over the years worked as a philosophy teacher, a Turkish instructor in Germany, and as a journalist. Among his many publications is his autobiography, Passion For Knowledge, that is among many of his works that have been recognized with awards. Through the assistance and sponsorship of the Tekeyan Cultural Association, Yalçin was able to travel to America for the first time four years ago. Yalçin, speaking in Turkish, through his translator Kutay Kugay, expressed his gratitude and excitement about the distribution of his book.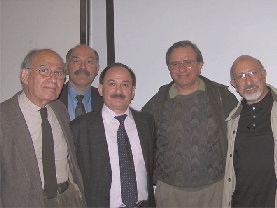 You Rejoice My Heart is a collection of memoirs about Armenian families living in various regions of Turkey. It was written in memory of one brave Armenian, Hrant Dink, who stood up to the Turkish authorities and suffered the ultimate punishment – death. Yalçin had come to learn about Armenians from an Armenian women, Meline, who was his Turkish teacher in Germany. She inspired Yalçin to begin his journey of discovery.
Yalçin's voyage took him throughout many villages and towns of historic Armenia. One man he discovered was Haji Ibrahim, who lived in a Kurdish village, as one of two Armenian families. Because living as an Armenian was so difficult, Haji Ibrahim never knew he was Armenian until age nine. His family acted as Muslims in order to avoid oppression or even annihilation. As a child, Haji Ibrahim relished the war stories told by his elders. He grew up with hatred toward Christians, or infidels, and yearned for the day he could take their lives. When he expressed this deep hatred to his older sister, she explained to him that he, in fact, was an Armenian, an infidel and he and his family only acted as Muslims to save their lives. Because of stories such as these, it is difficult to know the true number of Muslims living within Turkey.
The Turkish government denial of the Armenian Genocide, of the centuries of abuse inflicted on Armenians, continues to raise tensions today. Many people believe that negative Turkish-Armenian relations are a part of history only; unfortunately that is untrue. Yalçin's book describes the numerous families that are affected by these relations in the present day.
Over the years, the truth has been silenced and there has been no progress because of it. Yalçin's wish, like that of many, is for the Turkish government to come to terms with the past, so people can move on. The ultimate goal would be for Armenians and Turks to be able to hold a dialogue and not restrict their discussion or feelings because of their ethnic or ancestral backgrounds.
Traditionally, Turkish Nationalism would not allow literature such as Yalçin's to even be published. As he travels from location to location promoting his book, patrons have questioned his nationality – "Are you sure you're not Armenian?" The answer is yes. Yalçin's roots are indeed Turkish and his family's religion is Sunni Muslim. Although he is fearful of the Turkish government because of book that he has published, he claimed "the power of truth is greater than fear, and it must be written." And that is precisely what he has done.