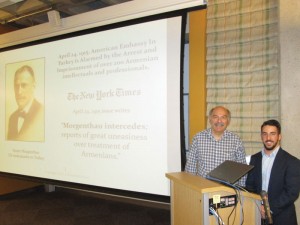 Staff Report
A traveling exhibit, "They Will Not Perish: The Story of Near East Relief" opened on Monday, October 5, on the second floor of the Henry Madden Library, at Fresno State and will be on display through October 30 during regular Library hours. The exhibit was organized by the Armenian National Committee–Western Region "America We Thank You" (AWTY) initiative, in conjunction with Armenian Studies Program Coordinator Prof. Barlow Der Mugrdechian. AWTY committee member and Fresno State alumnus Shant Kataroyan spearheaded the effort to bring the exhibit to Fresno State.
An opening event was held at noon on October 5, featuring a documentary video by director Bared Maronian, "America We Thank You," which was screened to an audience of students and faculty. Prof. Der Mugrdechian welcomed those in attendance. "Today we have the opportunity to learn more about an exceptional page in Armenian and American history. Thanks to the efforts of Near East Relief nearly one-hundred years ago, thousand of Armenians were saved from the effects of the Genocide."
ASO Vice-President Tadeh Issakhanian addressed the audience, stressing the significance of the Near East Relief efforts in Armenia.
The exhibit was prepared to commemorate the outpouring of generosity and aid by both the American government and its people during the years 1915-1930. Composed of colorful panels, the exhibit chronicles the incredible story of The Near East Relief on the 100th anniversary of its inception. Many of the panels are from the series of Near East Relief posters that had been created to raise awareness to what was happening to the Armenians.
The "America We Thank You" campaign reminds the world and especially Armenians of the pivotal role the American government played and it also strives to recognize the brave men and women who stood up for the Armenians and spearheaded the humanitarian movement that preserved the Armenian people.
To find out more about AWTY go to americawethankyou.org.