Marine Vardanyan
Editor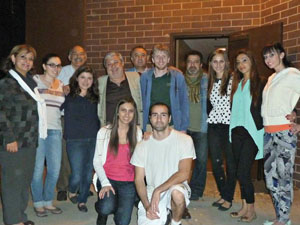 Fresno-Armenians enjoyed an afternoon of laughter on Sunday, April 7, when a comic play "The Don Juans in Marseilles," sequel to the original "Don Juan Avia," made its return to Fresno State's Satellite Student Union. The Armenian Studies Program and the Charlie Keyan Armenian Community School co-sponsored the event, with help from the Armenian Students Organization. Garbis Titizian of Levon Travel was the organizer of the play's international tour.
Comedians Hrant Tokhatyan, Narek Duryan, and Lala Mnatsakanyan, along with rising-stars Harut Avalyan, Stella Zeynalyan, and Shushanik Sahakyan brought an evening of hilarity to the audience, who watched the love scandals of the main characters unfold. Artash, played by Hrant Tokhatyan, is a gynecologist living with his police-officer girlfriend, Bertha, in Marseilles, France. When Bertha plans to visit her sick mother in Germany, Artash sees it as a chance to invite his lover Suzy, an opera singer, to his house.
Bertha nearly discovers Artash's affair, who in order to cover up his plan, fabricates that his good friend Gilbert, an anesthesiologist from Paris, will be paying him a visit. Unbeknown to him, Gilbert is Bertha's secret lover.
A confusion of identities, cleverly fabricated excuses, and chaos among lovers and friends became the source of entertainment for the evening. The show also included random appearances of a bewildered homeless man named Khachik, whose character was helped made believable by the performance of the ASO volunteers, who became part of the show.
"My favorite part of the play was the interaction of the 'homeless man' with the ASO volunteers," said Ruzan Orkusyan.
As the show neared its end, the audience came to the realization that the homeless man was in fact an actor playing the role of Suzy's ex-boyfriend, who journeyed from Armenia to wish her a happy birthday.
Laughter frequently erupted in the hall, as the audience witnessed the misfortunes and the hopeless attempts to avoid the inescapable surfacing of the truth. The great confusion, complications, and the consequences still did not teach the two Don Juans a lesson, as the stars promised to return to Fresno when the third sequel of their adventures makes its debut. The cast of "The Don Juans in Marseilles" left Fresno for their next appearance in Canada, the final destination of their North American tour.