Tamara Karakashian
Staff Writer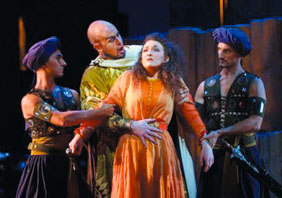 As the lights dimmed, hundreds of spectators rushed to their seats; the curtains were drawn to reveal the Armenian army and King Arshak II celebrating a glorious victory over the Persians. Armenians for centuries since have learned about the history of the great nation of Armenia from historians such as Agathangelos, Movses of Khoren, and Pavstos Buzand to name a few. Now there is an amazing opportunity to experience Armenian history on the stage-by watching Tigran Chukhadjian's Arshak II debut at the San Francisco Opera.
Chukhadjian dramatized the story of Arshak II's reign by writing his opera in the European style. He changed some relationships and added a romantic flavor to the war-stricken history of the Armenians. Many people have debated the issue of "changing" history. Some feel that history should be preserved in its original form, and there are others who appreciate the "flare" that Chukhadjian added to Arshak II. Chukhadjian did not write a history of the Armenians as Agathangelos did. He wrote an opera to appeal–as most operas do–to the enjoyment of its audience.
When the San Francisco Opera became interested in Arshak II, they were given the choice between Chukhadjian's original version and the version that had been on stage in Armenia since 1945. They chose the original version to put on stage for the first time, thereby making history. Although Chukhadjian's opera was originally written in Italian, the San Francisco Opera thought it should be performed in Armenian as a tribute to its late composer.
Arshak II was composed in 1868, however, according to Gerald Papazian "…it was not performed during the composer's lifetime because of financial constraints and the stifling political atmosphere of Ottoman rule."
Since 1945 the only known version of the opera had been performed in Armenia. There is a debate about this version, which had been "modified" to conform to the communist political control of Armenia during that time. Had the modifications not been made, and the opera staged, there would have been the risk of losing an epic opera.
Chukhadjian did not see his opera performed during his lifetime, however due to the financial support of many people from the Armenian community, in the amount of over $1,000,000, and from the San Francisco Opera, the opera debuted on September 8, 2001 at the San Francisco Opera.