Marine Vardanyan
Staff Writer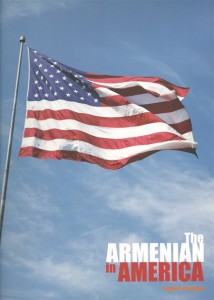 The words "Wherever we reached, wherever we went, everywhere we left an indelible trace," by the Armenian poet Paruyr Sevag are proven true by Stepan Partamian, in his latest book The Armenian in America.
In the United States, where the Armenian Diaspora consists of more than a million Armenians, the Armenian people have definitely left their mark throughout the country.
On April 7, 2013 television host and researcher Stepan Partamian paid a visit to Fresno, to present his new book The Armenian in America, which features nearly 600 breathtaking and insightful photographs documenting Armenian landmarks, institutions, and signs in America. Colorful photographs display the history of Armenian-Americans and the footprints Armenians have left in this nation throughout the many years. Flipping through the book, you can find photographs of Armenian landmarks such as churches, schools, cemeteries, businesses, and street signs, each with its own caption.
Driving alone across America, Partamian visited 45 states with the help of his navigation system, and with his laptop and camera in tow. He captured and documented the testimony of an Armenian existence in well-populated areas, along with locations where there are only a handful of Armenians.
The book takes one on a photographic journey throughout America to learn of the historical presence of Armenians and their influence in establishing landmarks, landscapes, and historical sites.
The statue of Gomidas in Detroit, Michigan, the first Armenian Apostolic church built in America, in 1890, in Worcester, Massachusetts, the Armenia Town Hall founded in 1856 in Juneau County, Wisconsin, and the Soghomon Tehlirian monument in Fresno, are only a few examples of sites presented in the book.
On the last page of his captivating book, Partamian leaves a short message for his readers, "Next is the world." Having completed the documentation of The Armenian in America, Partamian is moving on to a larger project, creating a similar photographic documentation of The Armenian in the World, which he plans to release in 2015, in honor of the 100th Anniversary of the Armenian Genocide.
You can purchase The Armenian in America, priced at $40, at Armenian bookstores or online at TheArmenian.com.