Staff Report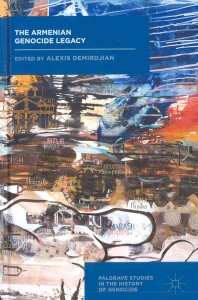 It was almost three years ago that Prof. Barlow Der Mugrdechian received an invitation to participate in a book project planned to coincide with the 100th anniversary of the Armenian Genocide. The path to completion of the book eventually took Der Mugrdechian halfway around the world to participate in an international conference "The Armenian Genocide Legacy, 100 Years On," held March 5-7, 2015, in The Hague, Netherlands.
The journey was completed with the publication of The Armenian Genocide Legacy, (Palgrave Studies in the History of Genocide, 2016), 369pp., in English.
An international group of twenty-three authors contributed to the volume. They had varied professional expertise, with art and film critics, lawyers, literary scholars, social and political historians, and educational theorists.
The moving force behind the project was Alexis Demirdjian, a prosecution trial attorney at the International Criminal Tribunal for Yugoslavia, based in The Hague.
The volume focuses on the impact of the Armenian Genocide on different academic disciplines at the crossroads of the centennial commemorations of the Genocide.
Its interdisciplinary nature offers the opportunity to analyze the Genocide from different angles using the lens of several fields of study.
Der Mugrdechian's chapter, "The Theme of Genocide in Armenian Literature," focused on the effects of Genocide as seen through the eyes of writers. He analyzed Armenian-American writers of the twentieth century and their outlook.
Second and third-generation writers in particular returned to the theme of the Genocide in their works.
For more information on The Armenian Genocide Legacy please visit the website at: http://www.palgrave.com/us/book/9781137561626.