By Tamara Karakashian
Staff Writer
Diane Goshgarian's historic novel, The ArbitrarySword, depicts Victoria Adanalian's tale of love and heartache in the beautiful countryside of Armenia. This extremely well written historical novel is the true story of Goshgarian's grandmother who struggled to survive the Armenian Genocide.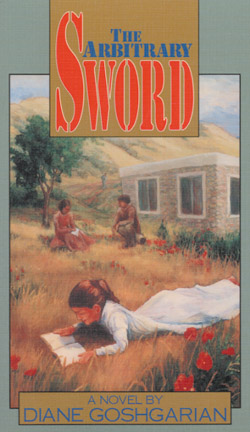 Goshgarian was the keynote speaker at the Fresno Armenian Martyrs Day Commemoration held at Pilgrim Armenian Congregational Church on Tuesday evening, April 24. Goshgarian, a native of Massachusetts, shared her insight in writing her historical novel and gave a clear account of the Genocide's current place in the contemporary lives of Armenians and non-Armenians alike.
Goshgarian also appeared at College of the Sequoias in Visalia for a lecture and to teach two classes at the Festival of Books. She will also be interviewed on Horizon and the Armenian National Network during her week on the west coast.
Goshgarian recorded her grandmother's eyewitness accounts as remembered by family members. She also conducted research on the historical aspect of the period leading up to the Genocide.
Her book goes on to tell the story of Victoria's family and friends who were also victimized by the Ottoman Turks. The heart-tugging stories of Victoria's friends being brutally attacked and murdered gives the reader a vivid perspective of life during the Genocide.
The novel was completed in 1994. Goshgarian was excited when her literary agent was ready to publish her book; however, she soon found out that her agent was a scam artist. After years of trying to track down her manuscript with the help of the FBI and local authorities, Goshgarian eventually got back her manuscript and decided to form her own publishing company and publish her book.
Having read this wonderful novel, I highly recommend it to everyone interested in the eye-opening story of the Armenian Genocide.
The book is hard to put down and the story is one that I know many Armenians can relate to. The book was initially sold by the ACYO of St. Mary Armenian Apostolic Church in Yettem. The book can be ordered though amazon.com or Barnes and Noble.