By Shayla Srabian
Staff Writer
On Thursday evening April 13, 2000, California State University, Fresno was treated to a performance by artist Lory Tatoulian. Lory was born in Reedley, California and moved to San Diego at the age of twelve. She is now a senior at San Diego State where she is majoring in Theater. She wrote five original pieces and performed them on stage at the University Satellite Student Union.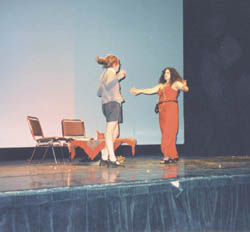 Lory knew at an early age that she wanted to be a performer. "It felt like I was coming home. The first time I performed was at the Peach Blossom Festival at Fresno State in the third grade. After I won I knew I wanted to be a performer. It was neat to come back to Fresno and perform in "An Evening of Five Very Original Performance Pieces".
The performance dealt with today's social issues and the Armenian Genocide. Her grandmother's survival of the Genocide inspired her to write these pieces.
The first piece, titled "Simone Catchatone," also starred Rian Bohner. This piece spoke of print ads and the strong influence they have in our society. Lory captured the audience's attention as she powerfully strode on the runway with her outrageous outfits that portrayed the fashion business. In the words of Simon Catchatone, "I am the most beautiful woman in the world, everyone wants to be me!" This statement was comical but held a lot of truth of how society looks at these false images for validation.
Lory's second piece "Beautiful Armenian Girl" was a strong piece and told the story of her grandmother who survived the 1915 Armenian Genocide. In the background a picture of her grandmother was projected as she brilliantly told her story. The piece spoke of the horror and sadness of the genocide and migration to America. She expressed the hope and happiness she now can have in America.
In the third piece, "Hidden," she played a woman with many phobias and obsessions. In the fourth piece "Hripsime" she was a gypsy-like fortune teller who comically read the fortune, through the reading of coffee cups, of Gina Alvarado who starred with her. Lory gave the secret of how to catch your man.
The last piece "Ritual" spoke of bringing the two worlds together, the Armenian world and the world itself. Bringing together all of the material things, the rules, the norms, but at the same time holding on to Christian Faith. Lory's performance was creatively done. She gave a powerful performance. Well done Lory!