Suren Oganessian
Staff Writer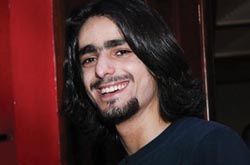 Last year, Armenia made a difficult and controversial decision to withdraw from Europe's premier annual music contest, Eurovision, concerned that its venue in Baku, Azerbaijan, would present security concerns for their performers. Now that the contest is being held in Sweden, Armenia is poised to make a comeback.
The Eurovision Production Team of Public Television of Armenia selected Gor Sujyan, lead singer of the popular Armenian rock group "Dorians," to perform at the Eurovision Song Contest.
The song he will perform, "Lonely Planet," was chosen through a nationally televised final on March 2, by the combined vote of the TV-viewing public and an expert jury.
Gor Sujyan, son of the jazz guitar player Mkrtich Sujyan, has tried out for the Eurovision Song Contest before. In 2009 his band "Dorians" participated in the first qualifying round, losing out to the sister duo Inga and Anoush Arshakyan. However, the experience broadened "Dorians" fan base.
The next year, Sujyan was crowned "Best Male Singer" at the Armenian National Music Awards. He also provided backup vocals to Eva Rivas at Eurovision, who ended up placing seventh. With his passionate singing voice, Sujyan has climbed the ranks to make it to the top and become Armenia's choice at Eurovision.
Although Armenia has never won the Eurovision competition, they have a fairly solid track record. With the exception of the 2010 competition, Armenia has placed in the top 10 for every Eurovision since 2006—when it first entered—getting as high as fourth place in 2008.
Perhaps this year, Sujyan can finally bring his country a first place victory after a disappointing withdrawal from the year before. Only time will tell, but it is something Sujyan has strived for his entire career, and something his powerful singing voice has made him well equipped for.
To watch Sujyan's journey check out the Eurovision website, eurovision.tv.