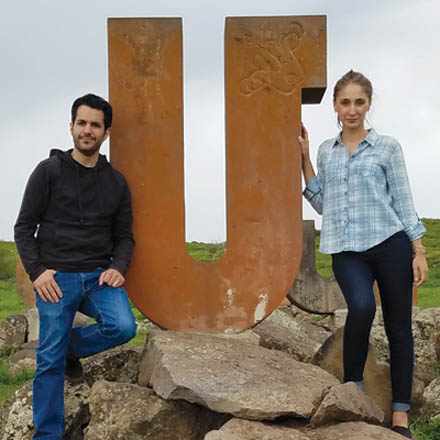 Marine Vardanyan
Visiting Armenia is always a special experience, but this trip in particular was one of my favorites. I was already well acquainted with the country and its customs, having been born in Armenia and having visiting many times.  However, there is always something new to learn with each experience. The trip itself was more special to me this time because I was there with my fiancé and dearest friends. Embracing our roots and exploring the country, as well as participating in many exciting activities, strengthened my desire to be even more connected and engaged with the Armenian community.  
I was most impacted by my experience with the girls of Mer Hooys-House of Hope. From my first encounter with the girls who ranged from 8-14 years old, I was touched by their friendliness, trust, and eagerness to please their guests. I was overwhelmed by their ability to be so loving towards us, having only met us on two to three occasions. Each interaction was filled with positive emotions, smiles, and laughter. Playing dodgeball, dancing, and simply socializing with them made me realize how important it is for these young girls, who come from a variety of challenging backgrounds, to have positive role models in their lives.  Had I not met these girls and learned about their stories, I would not be aware of how life really is for many young Armenians with disadvantaged backgrounds. This experience not only made me grateful for my own circumstances, but also evoked a strong admiration for the girls, who have done so well despite their adversities, and for all the individuals who work to empower them.
I hope to stay involved so that when I return in the future, I can support the valuable work done at Mer Hooys. The girls and I made a promise to one another to never forget each other, and I hope I can keep this promise by continuing to maintain a supportive connection with them. 
My attitude and perception of Armenia has changed since this trip. Now, I no longer see my future visits as a "vacation." Instead, I hope it can be an opportunity to serve and work towards improving the country and the lives of those who live there. Visits with a purpose are much more powerful because they not only bring fulfillment, but they also positively impact the lives of others. I would like to dedicate future trips towards working with Mer Hooys to help the girls of the program achieve successful and secure lives.
David Safrazian
Visiting Armenia was a great time in my life and I learned so many new things about the country and the history. The visit has had a big impact on my life and created fond memories that I will always remember.
The most significant impact of the visit to Armenia was the change in my personal life. During the weeks spent in Armenia, I felt more connected with my homeland than I ever have. Even though I didn't know the language well, I never felt like I was out of place. I gradually have come out of my shell more throughout the trip and have continued that through my time back home. 
I want to come back again and again to see this beautiful country. 
I never realized all the connections that were in Armenia that involved Fresno and Fresno natives. Someday I would love to be involved in something in Armenia that will help people there. I love technology and science and volunteering at the Tumo Center would be wonderful. 
I have learned more about Armenia and this not only makes me want to learn more and more, but now when I learn the history I can say that I have been there and I can make personal connections. 
I expected to enjoy Armenia and was excited and thrilled that I would be going on an amazing journey. What I discovered is that I had the best time of my life. I wish I had been able to spend more time in Armenia. I hope I am able to go back many times in the future.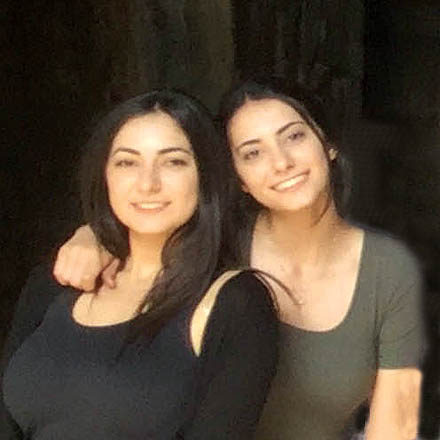 Esther Oganyan 
Returning to America from Armenia was a challenge. My sister Mary and I didn't want to come back as we were enjoying every second of the trip! 
The most significant impact I walked away with was learning that people come from different walks of life, and it's important to understand they are different and not judge but learn from them. I loved seeing the different regions of Armenia and seeing how people lived differently. 
My feelings towards Armenia changed three-hundred and sixty degrees. The trip was overwhelming and amazing to say the least! I am so grateful to Professor Der Mugrdechian and Professor Ohanessian giving the students at Fresno State the opportunity to visit such a remarkable country and to show us places that we otherwise would not have ever been able to see. The early mornings and long nights were definitely a challenge but worth it beyond words. I continue to talk about the trip, the memories I've made, the people I've met and the countless laughs and joy I have experienced. My only regret was waiting this long to visit Armenia.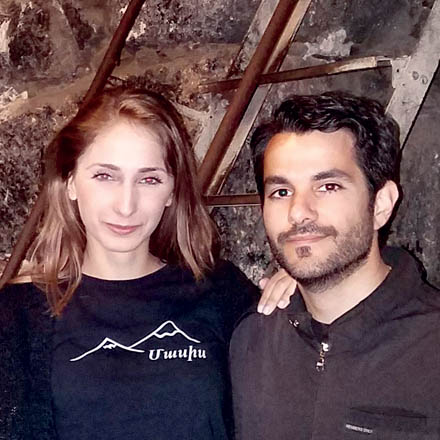 Mitchell Peters
It was different this time around. Gone were the days of uncertainty and the search of finding my place in the Armenian culture. Since my last trip to this mystifying country, some twelve years ago, I've enjoyed an interesting journey through professionalism and love. I moved from Fresno to Los Angeles, from 2006 through 2008, then back to Fresno in 2014, and about a year later, drifted into the heart of Marine Vardanyan—my new companion in this voyage of self-discovery.  
Before Marine, I was alone, aimlessly searching for a connection with my ethnic roots, Armenian blood flowing through my veins, not truly understanding how that should make me feel. I was a third-generation Armenian American who grew up with the culture and spirit but still felt disconnected from it. We're all born into confusion, tossed into a world of love and chaos—or perhaps the other way around. There is little time to reflect and find answers. It's even more difficult when one attempts to discover meaning alone. Circles, round and round. The daily struggle is easier now and a certain burden has been lifted. With Marine, who is now my wife to be, each passing day is filled with a cultural richness I thought would never exist. The void has been filled. But I digress.
About halfway through our two-week trip in Armenia, I was standing near the elevator of the Ani Plaza Hotel mezzanine, on my way to eat another magnificent breakfast, when I overheard an Armenian-American girl talking to a friend about her final day in the homeland. It was her second trip to Armenia and she noted there was less pressure this time around to see everything—the endless ancient churches and other historical tourists sites. Hearing this, I realized I felt the same way. Instead of having the need to see every last place, I was able to sit back and soak it all in, feeling more like a native than a tourist. This wouldn't have been possible without Marine by my side, giving me a behind-the-scenes peek into the everyday lives of the Armenian people. Let me explain. 
One of the major disappointments of my first trip to Armenia was not getting the authentic experience of what it's like to live in Armenia. I was envious of my fellow students who visited family members' homes in Yerevan and got a glimpse behind the curtain. In the weeks prior to our most recent visit, Marine warned me that her family would want to spend as much time with us as possible. She wasn't kidding. Upon our arrival to Zvartnots International Airport, numerous members of her family greeted us at the gates, overjoyed with happiness. Her uncle and cousin were there, along with the cousin's wife and newborn son, along with some family friends whom I had previously met in Los Angeles. I joked how Marine looked like a homecoming queen because of the lovely batches of roses they gave to her. That wasn't the end of the flower giving.
Later, those same family members would invite us into their homes, take us out to nice restaurants and cafes, help us explore hidden regions, and do everything in their power to make us feel welcome and at home. This indeed proved what many had already told me: that Armenian locals are perhaps some of the most friendly and hospitable people on the planet. Marine's family and friends welcomed me with completely opened arms and made me feel as if I belonged.
Of course, there are many great memories I have from this latest trip to Armenia, like the absolutely amazing view of Mt. Ararat from my hotel room window, the grand tour of the Ararat cognac factory, and our heartwarming visits to Mer Hooys, with the most inspiring young girls you'd ever meet, but it was Marine and the new doors she opened for me that made this trip to Armenia one I will never, ever forget.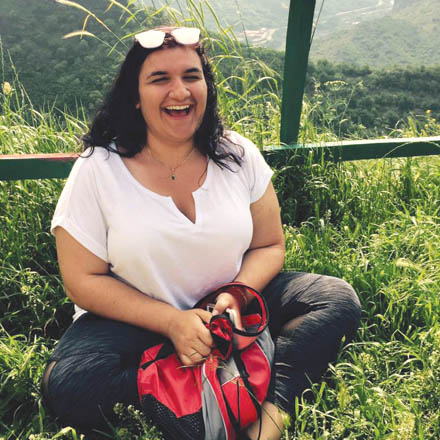 Marina Chardukian 
This was my first time going to Armenia and I can honestly say it was a trip I will never forget. We experienced so many special things, it's hard to put into words the things that have changed in me and as a group. We have become closer to our culture and closer as a group of individuals who are now friends. 
The whole country of Armenia, or at least the parts we visited, were so beautiful and did not compare to pictures at all. When I started at Fresno state it had not really crossed my mind that I would go one day to Armenia. I wanted to learn all I could at Fresno State by getting my Minor in Armenian Studies. 
When the opportunity to travel to Armenia was available, I took advantage and the experience has changed me for the better. I learned some simple things like there is a whole other way of life that we do not always see. But that comes with traveling to another country. This was different, these people came from the same place I did, we just ended up in different places in the world, different realities, different lives. This whole experience was exactly that, an experience that I will never forget.
This was a learning experience, I enjoyed every minute of it.