Staff Report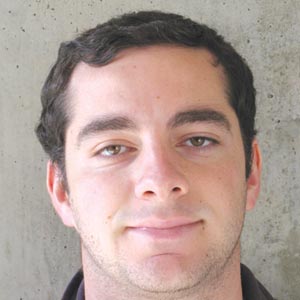 David Tataryan
Senior, Computer Science
This past summer I took a trip to Armenia and it was an unforgettable experience. All of my life I had wanted to see the city I was born in, the neighborhood my parents grew up in, and the home that my family once lived in. And I finally did.
I was very excited but at the same time nervous. I had seen pictures, read articles, and heard stories about Armenia, but still wasn't sure what to expect. But all my nervousness seemed to disappear when my uncle greeted me at the airport. He took me to his home, where I stayed with his family for five weeks. I was very happy to spend time with them because they were the nicest people one could meet. Although everything was new to me, I felt a sense of familiarity and belonging.
My favorite site in Armenia was the monastery of Tatev. It was very beautiful and the location was unbelievably peaceful. The surrounding mountains and high landscape made it feel like a resort. During our visit to the monastery, we had the pleasure of riding the world's longest cable car line, which took us directly to Tatev.
My most memorable experience in Armenia was my christening. I was baptized in the beautiful cathedral of St. Gregory the Illuminator, in central Yerevan. It was one of the largest churches we had seen in Armenia. I was lucky to be baptized in a church in Armenia, but was even luckier to share that day with friends from Fresno and close relatives in Yerevan.
This trip was a great gift to me from my parents. They allowed me to travel to Armenia to see and feel the history that I have read so much about. It was an amazing experience that I will never forget. This trip is a story that I will tell my children, because some day they too may see and experience the land of their ancestors.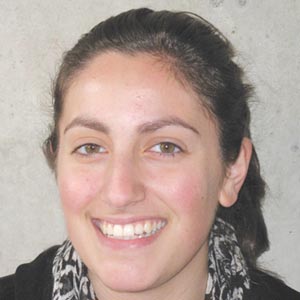 Ann Arpy Soghomonian
Junior, Biology, Minor in Armenian Studies
Although this trip was my second to the homeland, it was exciting and one that I will always remember, thanks to the group I went with.  Although I had already been to many of the sites we visited, the information and visits stuck much more than when I was 11 years old!
The places I loved that I had not been to before were the monastery of Tatev, with the awesome and long cable car ride, and Noravank, the beautiful monastery near Yeghegnadzor. Seeing all the monasteries and churches were fascinating, especially since we had learned so much about them in the Armenian Studies courses. Another amazing experience was being able to plant a tree at the Genocide Memorial grove, partially thanks to my random question to the Director of the Armenian Genocide Memorial-Museum, Dr. Hayk Demoyan.
The educational part of the trip was interesting, but it was the social aspect that set the trip apart from any other. Interacting with the college students from Yerevan was great; we got to see how people our age live. It also showed how different, yet similar, people can be, even if they are thousands of miles away. It was great getting to know all the students in our group! Some people I had known for years, others I had only just met at the few orientation meetings we had before the trip, but while in Armenia, we all acted like old friends. We definitely bonded and created so many memories to share.
Overall, it was an amazing experience and everything went pretty smoothly. The people we met were fascinating, hospitable, and showed us a lot about the culture. Yerevan is gorgeous, and the architecture is impeccable. I encourage others to go and see for themselves the beauty of the country and feel the strong sense of pride in the people.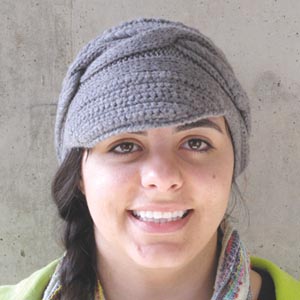 Tamar Karkazian
Junior, Business Administration, Option Sports Marketing
Growing up in the Armenian community, people always talked about visiting their homeland, Armenia, and coming back touched and moved by their experiences there. Let's just say the first time I visited Armenia I did not quite feel that connection, but during my second trip, with the Armenian Studies Program, I felt more of a connection. I felt this connection and awe during the interactions we had with the people. For me, the trip wasn't about the sites (I had seen them already) but rather the people and the scenery were breathtaking. It was an amazing experience to be able to see all the places we had learned about in classes. The sites we visited were beautiful, but what I remember vividly are the meeting with the Armenian people, in action.
One such memory was during one of the first nights in Armenia. There was a political rally in front of the Opera House and Michael Rettig and I decided to go. Although neither of us really understood what was being said, the atmosphere spoke to us. We could feel the passion and unity of the people there.
Another moment that truly moved me was during a soccer game. I know, only I would say that. There was a soccer game between Armenia and another country and a group of about 100 people had stopped in the middle of the street to watch it on one of the big screens. Nothing could tear them away from their team, not the fact they were losing, or the weather (it started raining). Seeing this sense of unity and pride filled me with pride and envy. I was proud that my people had such a great bond, and envious because we don't have that strong of a bond in the United States, California, or Fresno, and I feel that we are certainly capable of having those same bonds.
Planting a tree at the Genocide Memorial grove was an unbelievable experience, but seeing Armenians in their everyday lives was definitely a highlight of the trip. Despite the challenges of their lives, the poverty some face, they have an unfaltering faith, a generous spirit of hospitality, and great pride and unity in their culture and people.