Marine Vardanyan
Editor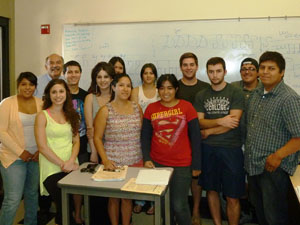 A classroom of students reciting the Armenian alphabet may not be an image that is very surprising, but in Prof. Barlow Der Mugrdechian's elementary Armenian course, Armenia 1A, it is definitely an impressive sight.
What may also be a surprise are the number of non-Armenian students sitting side by side with Armenians and working together to learn elementary Armenian.
All of the students start off with limited or no knowledge of the Armenian language, but by the end of the semester, they will be able to read, write, and speak basic Armenian. The course, which counts towards an Armenian Studies minor, has given many students with an interest in the Armenian language the opportunity to take the steps towards learning it.
Learning any new language may not be easy, but Professor Der Mugrdechian effectively teaches the students Armenian through visual aids, interactive conversations, and class assign-ments. Prof. Der Mugrdechian encourages the students to feel confident in speaking the language and writing the letters. In class, new words are learned and repeated out loud several times to improve pronunciation. Students create sentences and stories with their new vocabulary and practice writing out the words on lined paper packets.
Though the Armenian language has its challenging aspects, such as its unique letters and sounds that are often foreign to English speakers, Prof. Der Mugrdechian does not allow it to discourage the students. New class material is made relatable to the students, making it much easier for them to recall later. Prof. Der Mugrdechian often compares Armenian with English and Spanish to provide examples that make the process of learning a new language as comprehensible as possible.
"I have always wanted to learn Armenian and I want to be able to travel back to Armenia and be able to speak the language," said junior Joey Bohigian, who visited Armenia two years ago on a summer musical program sponsored by the AGBU.
Art major Noemi Gutierrez commented on the similarities in pronunciation between Armenian and Spanish. Though the reading of the Armenian letters poses the most challenge, she hopes to one day use her basic knowledge of the Armenian language outside of class.
"I decided to take the class because I wanted to learn how to read and write the language," said freshman Hovsep Nagapetian, "Even though we've only been in class for a few weeks it is a fun experience. Prof. Der Mugrdechian is a good teacher, and the other students are great to be around."
Memorable tips, a lot of practice, and the use of outside sources recommended by the instructor are the best ways for students to become comfortable with speaking, reading, and writing the Armenian language.