Evelyn Demirchian
Staff Writer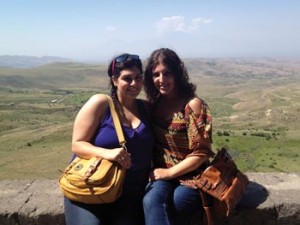 "Evelyn Demirchian! This is Suzy H. from Yerevan Magazine-you've won a trip for two to Armenia!"
I played back the voicemail at least four or five times before immediately dialing the number back to get confirmation that, yes, because I'd simply "liked" a post on Yerevan Magazine's Facebook page I'd been entered, and had won, an all-expense paid trip to my fatherland-Armenia. Eight months later I found myself on a 12-hour flight to Moscow with one of my best friends, Kristin.
Traveling to Armenia was never at the top of my priority list. As your typical broke college student, I didn't have the time and hardly the funds to think I'd be able to travel in the near future. Yet there I was, still in shock, as we descended into Yerevan's Zvartnots International Airport, tearing up at the sight of beloved Mt. Ararat.
The trip lasted a little over a week, and Yerevan Magazine was kind enough to arrange for a room in the historical Armenia Hotel (now Marriott), in the center of Republic Square.
A large portion of the week was spent on excursions to the ancient and famous sites of the country: the Temple of Garni, Lake Sevan, and the Dilijan forest, not to mention landmarks around the city such as Tsitsernakaberd (the Armenian Martyrs Monument) and the Matenadaran, Khor Virap, Etchmiadzin, Erebuni, Noravank, and Areni.
My head still spins thinking about how many places we visited in those short eight days. Even now, I feel a little nauseous recalling the driving behavior of our tour bus drivers. Did you know that Armenian bus drivers can talk on cell phones, blast folk music over their speakers, while going 50mph on sharp turns in the mountains?
But of course, there is nothing better than Armenian hospitality. Kristin and I came as guests to Yerevan and not a single moment passed where we did not feel welcome. The relatives I was able to meet treated Kristin and me like family, taking us into their homes and celebrating our brief meeting with everything they could afford. It was almost frustrating not being allowed to pay for simple things like we would back home in California, but that is the beauty of these people—they'd be ashamed to let a guest feel any level of discomfort. By the end of that short week Kristin and I were virtually able to communicate simple ideas with my family.
What can I say to those of you who have not been to Hayastan [Armenia]? To touch the ground your mothers and fathers walked on, ducking into the alleys they must have played in as children is a strange feeling that can not easily be put into words. I only regret not being able to see more of the land, and more of my family. For anybody who carries even the slightest interest or connection to this nation, make the effort and find your way there.
Go to Armenia and see for yourself! Gaze at Mt. Ararat hovering in the distance from Yerevan. Stroll around Holy Etchmiadzin and find yourself by the graves of past leaders and priests. Lose your breath hiking up the stone steps of our ancient churches. Get lost in Yerevan's diverse city center filled with Armenian expatriates, international students from India and Iran, Russian tourists, and European businessmen. Watch street performers and relax at late-night cafes and make new friends.
Take the first flight out and sit near a window so that when the sky begins to lighten up and the sun rises you can gaze in awe at Mt. Ararat, as it magically appears before you. Just go.