The Armenian Summer Study Program 2005 took place June 20-July 9, 2005. Students who participated in the Program had the opportunity to reflect upon their experience. Below is a piece by Christina Karakashian.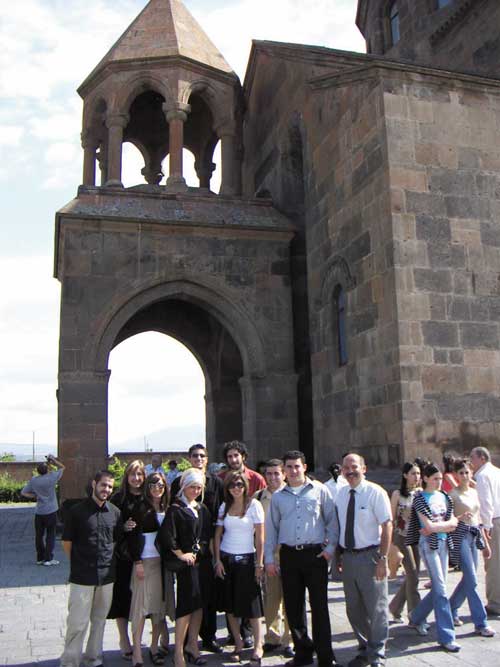 CHRISTINA KARAKASHIAN
As a student in the Armenian Studies Program at Fresno State, I knew that the ability to visit Armenia would not only allow me to visit the homeland of my ancestors, but also give me the opportunity to strengthen what I have learned in my Armenian Studies courses. Prior to this trip I had visited Armenia as a child and my experience was vague and uneventful.
I knew that a second trip to my homeland was necessary, and when the opportunity arose to travel with a group of students with the Armenian Studies Program I took full advantage. Returning to Armenia was an experience that I will never forget. After gaining the knowledge of Armenia through my classes, the visit was filled with much more meaning and emotion compared to my prior visit. From the sight of Mount Ararat through the blue sky to sinking my feet in the sand at Lake Sevan, the experience was unforgettable.
The trip was filled with many memories through the visitation to the various monuments, churches, and areas where certain events in Armenian history took place. The most emotional of my experiences was our visit to the monastery of Geghart. The church at Geghart has wonderful acoustics and a priest there sang an Armenian Church sharakan. The combination of his voice, the sun rays peering into the church, and the mere realization that I was in Armenia provided me with an unforgettable feeling.
After visiting Armenia I feel as if it is necessary for all Armenians in the diaspora to visit the home of their ancestors. Prior to my visit to Armenia I felt as if a link was missing between me, an Armenian in the diaspora, and my homeland, Armenia. Through the classes of the Armenian Studies Program I have been able to piece together the missing links between myself and Armenia, and this experience has definitely connected the chain that will forever be a part of my life and will never be broken.