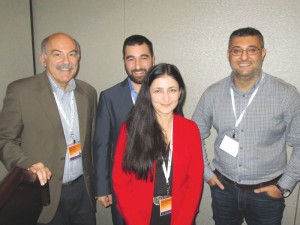 Staff Report
The Society for Armenian Studies (SAS) held its 42nd Annual Meeting on Thursday, November 17, 2016 at the Boston Marriott Copley Place Hotel. SAS President Prof. Barlow Der Mugrdechian conducted the meeting, which was attended by scholars throughout the United States and abroad. Members heard reports on SAS activities in 2016 and had an opportunity to discuss future activities and plans.
While in Boston, SAS and the National Association for Armenian Studies and Research (NAASR) co-hosted a reception for SAS members and NAASR Leadership Circle members on Friday, November 18 at NAASR headquarters.
Representatives of both SAS and NAASR gave updates on their recent activities. Each SAS member introduced themselves and spoke about their research, while NAASR leaders spoke about their future plans for their organization.
Everyone enjoyed the opportunity to interact in an informal setting, while enjoying a delicious buffet dinner.
The SAS sponsored a panel during the regular MESA sessions on Friday, November 18, entitled "New Issues, Perspectives, and Sources in Armenian Studies," chaired by SAS President Barlow Der Mugrdechian (California State University, Fresno), with the participation of Anna Aleksanyan (Clark University) "Ritualized Rapes and Body Destruction of the Armenian Women During the Genocide" and Varak Ketsamanian (Princeton University), "The Hunchakian Revolutionary Party from 1891-1895." Dr. Ümit Kurt, a visiting fellow at Harvard University, was the discussant for the panel.
SAS also co-sponsored a roundtable discussion on "Knowledge Production, Exclusion, Inclusion: The Repositioning of Armenians in Ottoman and Turkish Historiography," with the Ottoman and Turkish Studies Association.
Participants included Carel Bertram (San Francisco State University), David E. Gutman (Manhattanville College), Alyson Wharton (University of Lincoln [UK]), Rachel Goshgarian (Lafayette College), and Yasar Tolga Cora (University of Michigan), and Lerna Ekmekcioglu (M.I.T.).
The SAS is administered by a seven member Executive Council: President, Barlow Der Mugrdechian; Vice-President, Bedross Der Matossian (Univ. of Nebraska-Lincoln); Secretary, Lilit Keshishyan (UCLA); Treasurer, Arpi Siyahian (NuTech Ventures), and advisors Vartan Matiossian (Armenian National Education Committee), Sergio La Porta (California State University, Fresno and Editor of JSAS), and Vahe Sahakyan (University of Michigan).
The SAS website is societyforarmenianstudies.com.