Hakop Tataryan
Editor

Alecko Eskandarian, was named the Honda Most Valuable Player in the recent Major League Soccer championship game held in Carson, California. Alecko helped D.C. United win their fourth title against the Kansas City Wizards. In a span of seven minutes, Eskandarian scored twice in the first half to give his team a 2-1 lead going in to half-time. United won 3-2 even after losing one player to a red card.
Eskandarian also left the game in the second half due to cramping, which prevented him from going for the hat trick. Eskandarian was replaced by the teen phenom Freddy Adu.
Eskandarian's glorious performance was witnessed by 25,797 fans, among them, many Armenians, who waived their Armenian flags and hand-made posters of Alecko. Also in present was Eskandarian's father, Andranik "Eski" Eskandarian, who himself was a star in NASL from 1979-84.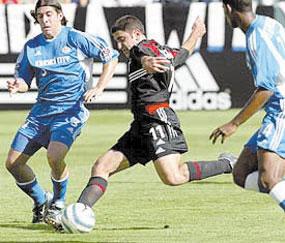 Eskandarian was a number one draft pick out of the University of Virginia, where he was one the finest players in the University's history. His coaches raved about him. "He's a picnic of a player and I'm looking forward to working with him and developing him and he'll be among a tremendous group of players in a vibrant and character-filled room. He's wonderful," said his D.C. United coach, Ray Hudson. Boy, Eskandarian sure lived up to his coach's expectations.
In 2003 the 22 year-old Eskandarian was the leader in goals and assists on the US-23 soccer team.
Currently, he has his sights set on the 2006 FIFA World Cup. With his exceptional performance this year, ten goals and two assists in 24 games, Eskandarian is a viable candidate for the U.S. men's soccer team.