Tamar Karkazian
Staff Writer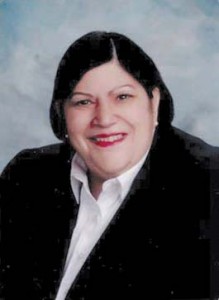 Think back to the fall of 2000, around election time. Try to remember the large pieces of cardboard placed in lawns and street corners, in bright reds and deep blues. Do any names stick out from those elections? One should. Debra Kazanjian. She ran and was elected as a Judge of the Superior Court, County of Fresno, Office 3.
Judge Kazanjian was invited to Fresno State to speak to students and members of the community on Thursday, February 25, as part of the College of Arts and Humanities Lecture Series, featuring distinguished Alumni. She is a highly respected member of the community and has numerous honors. For Debra Kazanjian, becoming a lawyer and later a judge was not something she had dreamed of since childhood. The mentoring of her Forensics teacher at Fresno High School and later her communication professors at Fresno State encouraged her to pursue a law degree.
Like many students, she was eager to get out of Fresno, but being a daughter of Armenian parents she said, "that really wasn't an option." In retrospect staying at Fresno State "was the best thing that could have happened." She graduated with a Bachelors Degree in Speech Communication, with a minor in English.
While at Fresno State Kazanjian actively participated in speech tournaments and debates. She felt that her involvement in these activities made all the difference in her education. Ms. Kazanjian learned many things from her participation that later helped her in her political career. One such lesson was learning how to regroup, which helped her in her campaigns, and allowed her to be quick on her feet. The greatest lesson she learned, however was to "bear down and finish with integrity." Her involvement with the team also made her experience at Fresno State all the better. She felt that the professors really cared about her and her classmates.
After graduating from Fresno State in 1974, she moved to Sacramento to attend law school. Even before completing her degree she had court experience. Because of her involvement at a Family Law Clinic, she was able to work a trial as a student. Her involvement in that case helped her decide to enter into family law, which deals with divorce and custody issues.
Upon graduation from law school, Judge Kazanjian returned to Fresno and opened her own practice, working as a private attorney for nineteen years before being elected. In 1996 she ran for Judge, but lost. When the opportunity arose during the 2000 elections, she decided to give it another try. "I didn't want to always wonder if I could have made it," explained Kazanjian. With the encouragement of her colleagues and even the retiring judge, she ran and was elected as a Superior Court judge for Fresno. She is currently assigned to the Probate Court.
She is a past president of the Fresno County Planning Commission, Fresno State Alumni Association, and Fresno County Young Lawyers Association.