Barlow Der Mugrdechian
Hye Sharzhoom Sdvisor
Shahen Khatchatryan, Director of the National Gallery of Art of Armenia and the Martiros Saryan Musem in Yerevan, Armenia, presented an illustrated lecture on "20th Century Armenian Art" on Friday, April 5, 2002.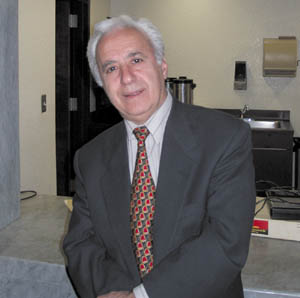 Khatchatryan's lecture, part of the Armenian Studies Program Spring Lecture Series, was held in the Alice Peters Auditorium of the University Business Center on campus.
Barlow Der Mugrdechian of the Armenian Studies Program introduced Mr. Khachatryan, who was in California to give a series of talks on Armenian Art.
Khatchatryan is the author of numerous monographs on famous Armenian artists of the 20th century: Martiros Saryan, Minas, Hovhannes Aivazovsky, Hagop Hagopian, and Rafael Atoyan, among others. He is an art historian and critic who was born in Aleppo, Syria, and returned to Yerevan with his family in 1946. He later graduated from the Leningrad Academy of Art.
Mr. Khatchatryan's illustrated talk began with a discussion of the founder of "modern" Armenian art, Hagop Hovnatanian, a portrait painter of the 19th century. Hovnatanian was the last of a great line of Hovnatanian painters and his portraits of the Armenian gentry of Tiflis are evocative of Armenian life of the period. Hovnatanian drew on the history of medieval Armenian manuscript painting and folk art to paint his masterpieces.
Hovahannes Aivazovsky, the great Armenian seascape artist of the nineteenth century, was the next artist discussed. Born in the Crimea, his seascapes have an originality based on the Armenian national temperment. His portrayal of stormy seas reflects the Armenian national optimism and determination against all odds.
Khatchatryan then moved to the 20th century with the works of Vartkes Soureniants, an artist whose works reflected Armenian national life, including the 1895-1896 massacres of Armenians in Ottoman Turkey. His paintings have a patriotic spirit to them.
Martiros Saryan is considered by art critics as the finest of 20th century Armenian artists. He was the first Armenian artist to recognize the need to form an individual style founded on ancient national traditions. His rich compositions were imbued with light, color, and contrasting harmonious combinations of colors. He devoted his life to Armenia which was the canvas for his works.
Gevorg Bashinjaghyan, Edgar Chahine, Egishe Tadevosyan, Carzou, and several other artists were discussed by Mr. Khatchatryan.
The evening concluded with a lively question and answer period.