Staff Report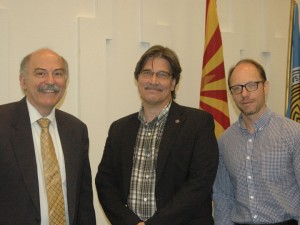 Armenian Studies Program professors Barlow Der Mugrdechian and Sergio La Porta participated in Scottsdale Community College's (SCC) third annual "Genocide Awareness Week," April 13-18, 2015.
The "Genocide Awareness Week" brings academic experts, genocide survivors, and advocates for peace together for a week of sharing and analyzing the circumstances that led to these tragic periods.
Professor Der Mugrdechian and Dr. La Porta presented talks focused on the 100th anniversary of the Armenian Genocide, however the week included presenters on other genocides of the 20th century.
"The aim is to impart greater awareness of atrocities past and present and instill a desire to end all forms of genocide," said SCC faculty member John Liffiton, co-founder and director of the program.
The "Genocide Awareness Week" was co-sponsored by the St. Apkar Armenian Church in Scottsdale, under the leadership of Fr. Zacharia Saribekyan. Armenian Genocide topics were also presented for the first time at Gateway Community College and Mesa Community College. St. Apkar hosted leaders of the Community Colleges for a banquet and cultural program on Sunday, April 19.
Prof. Der Mugrdechian spoke on "The Armenian Genocide-The 100th Anniversary," analyzing the primary causes of the Genocide. He then continued by presenting three dimensions of the consequences of the Armenian Genocide: the Cultural Genocide, the effects of the Genocide on Armenian language and literature, and the effects of denial.
Dr. La Porta discussed "One Hundred Years Later: The Armenian Genocide, Historical Memory and Moral Responsibility," focusing on the important reasons why the Armenian Genocide needs to be remembered and commemorated.
Next year, Scottsdale Community College is planning an expanded role for the Armenian Genocide during "Genocide Awareness Week." The Armenian Studies Program at Fresno State will provide an Armenian Genocide Exhibit and an Armenian Genocide workshop for Phoenix and Scottsdale secondary school teachers.