Barlow Der Mugrdechian
Advisor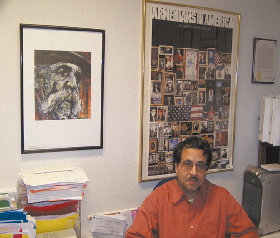 For a scholar from India, coming to Fresno to study was a natural choice, especially when the focus of the research was on the works of William Saroyan.
Kolkata, India native Debashis Bandopadhyay arrived at Fresno State in November of 2007 to begin a nine-month stay on a Fulbright Fellowship. He was granted a sabbatical by Presidency College, Kolkata, where he teaches, taking a difficult sentimental leave from his wife and seven year-old daughter.
Bandopadhyay's research in India was on the concept of normalcy, framed by the concerns of Anglo-Indian identity during the formation of the Indian nation-state. His interest in the Anglo-Indian author Ruskin Bond, led him to begin investigating the nature of similar anxieties shared by similar communities. Among the major influences on Bond was William Saroyan.
According to Bandopadhyay the Fulbright Fellowship provided him with "an ability to exchange ideas from India, for new impressions culled from America, and thereby make significant contribution to the existing body of knowledge in the domain of epistemological studies." While working on Bond he realized the importance of exchange: how authors socio-culturally as distant in space, such as Bond and Saroyan, can draw on a collective repertoire of consciousnesses and in the process expand the horizons of belonging.
Coming to Fresno gave Bandopadhyay a first hand impression of "the remnants of the socio-cultural construct that primarily helped build Saroyan's aesthetic consciousness." For his research he has utilized the Fresno State Henry Madden Library, the Madden Library Special Collections Department, consulted Dr. Dickran Kouymjian and Barlow Der Mugrdechian of the Armenian Studies Program, Steve Adisasmito-Smith of the Department of English, his friend John Walke, and attended the colloquiums commemorating the 100th anniversary of Saroyan's birth – all contributing to Bandopadhyay's thesis.
The result of Bandopadhyay's research is expected to be published in book form by Ashgate. His research is leading him to newer horizons: interest in western construct(s) of normalcy inspired him to probe further into the fitness of Hispanic and Basque cultural elements in it.
Bandopadhyay is visiting Fresno for the first time, and this is his second visit to the United States. Fresno is unlike the archetypal American megacity, and for Bandopadhyay, Fresno appeared as a "a sort of shock absorbing incubator for an Indian venturing more or less for the first time into the bustle of the United States metros. It is a good place to work peacefully and in a languid pace. My parents always called me lazy and when my daughter gets too fatigued with her studies my wife reprimands her saying, 'Don't slug like your dad, my child.' Fresno is a perfect fit for me."
When Bandopadhyay was asked what he had found most interesting about American culture, he responded, "I have been intrigued by the American work culture and an average American's sincerity and devotion to work are enviable. I lament the lack of these two elements in an average Indian's work ethics."
Bandopadhyay has just begun to travel outside of Fresno, including an interesting short trip to Bass Lake with Steve Adisasmito-Smith and his two children and an American dinner with John Walke and his family on Thanksgiving. A trip to Yosemite is forthcoming.
While in Fresno Bandopadhyay has had the opportunity to meet with the Armenian community. He has discovered that Armenian notions of identity can be divided into bipolar categories: that of the elderly, mostly first generation immigrants to this country and their grand and great-grand children. In between fit the ideas of people like William Saroyan who were born in this country before the Depression and grew up negotiating with the ethnic and racial impulses of their migrant parents on the one hand and the insistent demands of Americanization on the other.
The feedback that Bandopadhyay continues to receive through the many meetings he has had across the generations is set in juxtaposition with the notions of ethnicity embraced by the Anglo-Saxon people of the town who grew up and are still living side by side with the Armenians.
Bandopadhyay attended a missionary school in Kolkata and later attended Jadavapur University, majoring in English Language and Literature. At the completion of his undergraduate and graduate studies he enrolled at the Central Institute of English and Foreign Languages at Hyderabad (India) for further studies. He then underwent exhaustive training in pedagogic methods and practices under the rubric of the Cambridge University (UK) curriculum and joined the Ph.D. program in the Critical Humanities category.
Bandopadhyay is happy he had the opportunity to live and study in Fresno, "There is a sort of languor in the Fresno air – and probably it was more intense in Saroyan's time – that made a prolific and energetic writer like our author so fidgety. The Fresno atmosphere promotes this sort of sensibility whose worth Saroyan found more valuable in exile. The aesthetics that developed from his Fresno experiences is so pervasive in Saroyan's oeuvre that it is hardly possible for a commentator to realize it without coming to Fresno."
The resources in Fresno are helping Bandopadhyay reach that persona behind Saroyan the storyteller. The details of his discovery, however, will go into the book that he is enjoying writing. For Bandopadhyay it "is exciting to write about Saroyan in Fresno."
Bandopadhyay will be participating in the "Saroyan at 100" conference sponsored by the Armenian Studies Program, to be held April 5 at Fresno State.