Staff Report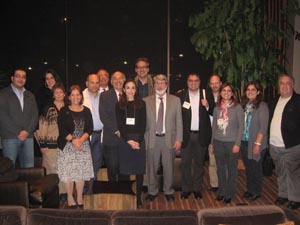 The Society for Armenian Studies (SAS) held its 39th Annual Membership meeting on Saturday, November 17, 2012, in conjunction with the Middle East Studies Association (MESA) annual conference held at the Sheraton Denver Downtown Hotel.
At the annual meeting members reviewed the activities of the SAS for the past year and discussed future activities. Plans for panels were formulated for next year's meeting, which will be held in October in New Orleans.
Three new members were elected to the Executive Council: Ani Kasparian (University of Michigan), Tamar Boyadjian (UCLA), and Barlow Der Mugrdechian (Fresno State). They join continuing members Kevork Bardakjian, Marc Mamigonian (NAASR), Bedross Der Matossian (University of Nebraska), and Nanor Kebranian (Columbia).
The Armenians of Colorado hosted a reception for SAS members Saturday evening. Richard Hovannisian (UCLA) was invited to speak on "Armenian Smyrna," and then community members met with SAS members and had the opportunity to become familiar with the activities of the SAS.
During the MESA conference, SAS members attended a variety of panels devoted to different aspects of Middle Eastern studies and especially Armenian Studies.
A workshop on "New Strategies and Methodologies for Teaching of Modern Armenian" was organized by Barlow Der Mugrdechian. Kevork Bardakjian chaired the workshop and Ani Kasparian was a discussant.
A panel on "Armenians in the Modern World" featured Arda Melkonian and Doris Melkonian.
There were two Armenian themed panels on Monday, November 19. The first, "History and Community: The Armenians of Lebanon and Syria," was organized by Barlow Der Mugrdechian, who also chaired the panel. Papers were presented by Ohannes Guekjian, Ara Sanjian, and Vahram Shemmassian. Kevork Bardakjian was the discussant.
Later that day, there was a panel on "Armenia in Dialogue with the Near East, 8-15th Centuries," chaired by Sergio La Porta. Papers were presented by Christina Maranci, Alison Vacca, Sergio La Porta, and by Michael Pifer.
The aim of the Society for Armenian Studies is to promote the study of Armenian culture and society. The Secretariat of the Society is located at the Fresno State Armenian Studies Program.