Staff Report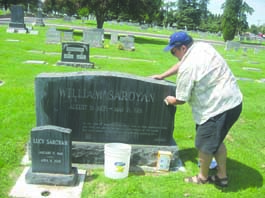 Ed Lanfranco is a native of Fresno who lived and worked in China for two decades, including the last eight years as a Beijing-based correspondent for United Press International.
Lanfranco, an expert on the city of Beijing and well-versed in Chinese history and culture, said he was motivated by two of China's celebrations for the dead: Qingming and the Hungry Ghost Festival to come clean William Saroyan's tombstone on the author's 101st birthday.
Qingming, meaning "Clear and Bright," is a rare (for China) solar calendar determined event falling on either April 4, 5 or 6. It is a family-oriented time to sweep clean and make offerings at the graves of one's ancestors.  The Hungry Ghost Festival takes place during the seventh month of the lunar calendar, usually during September on the Gregorian Calendar.