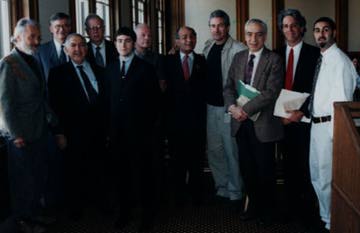 By Michael Kloster English Department, UC Berkeley
On November 15th an international conference "Saroyan Plus Fifteen" was held on the University of California, Berkeley campus to commemorate the work and life of William Saroyan. The gathering was jointly sponsored by the newly established William Saroyan Chair of Armenian Studies, the English Department, the Center for Slavic and East European Studies, International and Area Studies, the UC Berkeley Armenian Alumni, and the UC Berkeley Armenian Students Association. The event was also supported by the William Saroyan Foundation.
The symposium was organized and directed by Dickran Kouymjian, William Saroyan Visiting Professor of Armenian Studies at UC Berkeley to complement the course on Saroyan he is teaching in the English Department. Dr. Kouymjian is holder of the Haig and Isabel Berberian Endowed Chair of Armenian Studies at California State University in Fresno and author of numerous articles on Saroyan and the editor of two volumes of previously unpublished plays: An Armenian Trilogy (1986) and Warsaw Visitor (1991).
In officially opening the conference, Dean Richard Buxbaum of International and Area Studies referred to his first encounter with William Saroyan as a young boy in Germany recalling from memory a passage from the story "The Fifty Year Dash" from My NamesIs Aram , in which Aram feels as though "never before has any living man moved so swiftly." until he opened his eyes and realizes that "Three boys were ahead of me and going away." Dean Buxbaum stressed the importance of Saroyan's ability to reach humankind through diverse manners of expression.
The all day conference was divided up into one morning and two afternoon sessions followed by a roundtable discussion. The first panel, "William Saroyan after Fifteen," chaired by Professor Kouymjian, featured individuals who had an intimate knowledge of Saroyan as a person, as a writer, or both. First to reminisce was San Francisco writer Herbert Gold, a self-described "sometimes professor," and author of a dozen novels (including She Took My Arms As If She Loved Me, which will appear next year), was a friend of Saroyan the last twenty years of his life. He recounted a twenty year friendship "from their meeting at the San Francisco Museum of Modern Art to double dates and all-night parties." He summed up their relationship succinctly: "The man had a soul and it was a privilege to lurk around with it." Next to speak was noted Berkeley author Barry Gifford. In addition to his numerous awards, volumes of poetry, and many novels, Gifford has just made another movie with filmmaker David Lynch, whose Wild at Heart was adopted from Gifford's earlier novel. Gifford, author with the late Lawrence Lee of William Saroyan: A Biography, was editor at Creative Arts Books in Berkeley of the last volume published during Saroyan's Lifetime — Obituaries — read from his article "Saroyan and the Sense of the Past." Gifford provided insights into Saroyan's writing style, commenting that editing was difficult for an author who composed his work in a spontaneous manner to gain deep inner meaning through the natural flow of words.
Next was Aram Kevorkian, Saroyan's longtime friend and Paris lawyer, who provided touching stories of his relationship with Saroyan including an emotional and tender remembrance of winter in Paris when Saroyan discussed his feelings about Christmas and the loss of his father and related them back to a short play in the 1942 collection Razzle Dazzle. Taking a scholarly turn Professor John Whitmore, Provost and professor of Theater Arts at the University of Iowa and author of William Saroyan: A Research and Production Sourcebook, discussed a lost and legendary late Saroyan work – Adios Muchachos. Saroyan wrote the memoir –which he referred to as "this piece of writing, this history, this rhapsody of life, this dirge, this novel, this unidentified flying object"–over a 100 day period in 1980. The huge manuscript (which is over 335,000 words), zig-zags among rambling descriptions of day-to-day life, colorful pictures of fascinating people, and descriptions of his personal health and state of mind, during the final months of his fight with terminal prostrate cancer. The discussion of this lost manuscript prompted Lawrence Ferlinghetti, famous San Francisco poet and publisher, founder of City Lights Books, who was present throughout the conference, to remark that Saroyan was the first American author he read as a child. He expressed interest in publishing any of the diverse unpublished and unknown works of Saroyan and inquired about the availability of such manuscripts.
Following lunch, the second panel, "William Saroyan, the Critics, Karl Jung, and the Immigrant Experience," was chaired by Bonnie Hardwick of UC Berkeley's Bancroft Library. Ms. Hardwick was responsible for cataloguing the William Saroyan archives, a labor of six years, and is the editor of the 307 page guide the William Saroyan Papers 1926-1981. First to speak was John Leggett, author of a recently completed biography waiting publication: William Saroyan: The Daring Young Man.. Leggett extensively discussed Saroyan's war with the critics, shedding light on an author considered by many of his contemporary to be experimental or avant-garde. He especially discussed Saroyan's battle with Ernest Hemingway.
Micah Jendian, San Diego State graduate student and Fresno native, in his paper "A Jungian Approach to 'My Name Is Aram'" provided an insightful reading of My Name Is Aram. Jendian utilized a standard generally applied to visual art, arguing that from an analysis of Jungian archetypes in Saroyan's work "the voice of all mankind resounds." The next speaker, Harry Keyishian, most recently the editor of Critical Essays on William Saroyan, is Professor of English at Fairleigh Dickinson University in Madison, New Jersey, and Director of its University Press. Discussing "Immigrant Themes in Saroyan's Fiction," Keyishian dealt with Saroyan's self imposed responsibilities regarding newly arrived immigrants and their children; he quoted from the introduction of Saroyan's first book, The Daring Young Man on the Flying Trapeze : "I want to lift [man] form the nightmare of history to the calm dream of his own soul."
Harold Aram Veeser, Associate Professor of English at Wichita Sate University, literary critic, author, and editor of numerous books and articles, in his paper "Performance Machine: Saroyan against Literature 'For all Time'," acknowledged the energy and rapid on-the-spot composition of Saroyan, who often typed standing, without the aid of outlines or notes, and only the assistance of the burning desire rapid on the spot composition of Saroyan, who often typed standing, without the aid of outlines or notes, but with the assistance of the burning desire of the performance artist at his typewriter oblivious to the final forms of his works. According to Veeser, "Saroyan laid the foundations for the most important new art of the fin de si*cle, [ranging from] rappers and hip hop DJ's to the stand- up monologues of Eric Bogosian."
The final panel, "Saroyan and the Beats," was chaired by Anthony Bliss, head of the Department of Rare Books at the Bancroft Library, and curator of the current exhibition "Ferlinghetti, City Lights, and the Beats in San Francisco." Professor and poet, Edward Halsey Foster, author of Saroyan, a Study of the Short Fiction, and Understanding the Beats, is also President of Talisman House, publishers of innovative and avant-garde writing in the United States, and the author of All the Acts are Simple Acts his selected poems. In "Saroyan and Kerouac: Joy Is the Way I Live," Foster pointed out that "The expressionist aesthetic gave Saroyan and Kerouac the permission to write a rapturous, lyrical prose that would have been out of place in the sober, mainstream world of the, and suggested that the two authors are the principal links in the core American tradition of placing joy over pragmatic necessity."
Next, David Stephen Calonne, Associate Professor of English at Siena Heights College in Michigan and author of the groundbreaking study William Saroyan: My Real Work is Being, examined in "Two on the Trapeze" Saroyan's influence on beat-like writer Charles Bukowski, stating "Saroyan is one of a number of writers who are role models for Bukowski in the heroic, romantic, nonconformist tradition: the artist who bears stoically the ecstasy and burden of genius, and ultimately seeks a recovery of the sacred life."
UC Berkeley English major, Michael Kovacs, who along with Michael Kloster was a student in Professor Kouymjian's Saroyan course in the fall semester, presented "From Fresno to Lowell: Saroyan's Influence on Kerouac and the Beats." According to Kovacs, "Saroyan and Kerouac share some of the same aesthetic assumptions about literature: mainly, that as writers they would ignore conventions in order to convey the truth of their experiences." The next panelists, Michael Kloster, the conference's Logistical Coordinator and UC Berkeley English major, continuing on the Kerouacian theme of the panel, explained in his paper "Saroyan and Kerouac on a Quest for 'It'" that "Saroyan through his inherent humanity and the Beats through their New Vision sought to perpetuate positive societal change through their writings."
Finally, poet Ronald Loewinsohn, Professor of the Berkeley English Department, ended the session with "Saroyan, Kerouac, and the Beats," which put forth the idea of the "common man" in both authors' work, contrasting Kerouac's almost forced identification against Saroyan's natural affinity with his fellow men.
Following the last panel, Professor Kouymjian hosted a roundtable discussion around the theme: "What Now? The Future of Saroyan Studies," during which the audience and all speakers exchanged questions and answers. Veeser reinforced his view that the current quest for cultural education should obviously include Saroyan who was years ahead of his contemporaries and critics in expressing and interpreting the interaction which makes the U.S. a cornucopia of cultures. Discussion later turned to the publishing of the conference papers, for which Kouymjian, the Conference Coordinator, had received several inquiries. These offers and City Light's interest coupled with valuable argumentative discussion by the community, scholars, and students may assure a healthy prognosis for Saroyan's future popularity and continued appreciation.
Virtually every serious scholar and writer involved in Saroyan studies was brought to Berkeley by Prof. Kouymjian for "Saroyan Plus Fifteen." When the full texts of the papers are published, the event will probably stand as a watershed in Saroyan scholarship with several new vistas of inquiry thrown open for future investigation.