Evelyn Demirchian
Staff Writer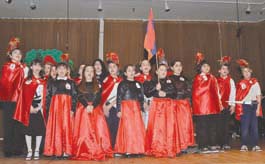 On Thursday, February 11, Armenian community members gathered at Holy Trinity Armenian Apostolic Church to honor Vartanantz, in commemoration of the Battle of Avarayr on June 2, 451. On that day, the Christian Armenians of the Sassanid Persian Empire took arms against their Persian aggressors and the Armenian leader General Vartan Mamigonian became a symbol of religious freedom. The traditional day of commemoration by the Church is the Thursday evening before the beginning of Lent.
The Knights and Daughters of Vartan Yeprad Tahlij and Alidz Otyag and Holy Trinity Armenian Apostolic Church sponsored the event, with the participation of the First Armenian Presbyterian Church, St. Paul Armenian Church, Pilgrim Armenian Congregational Church, and St. Gregory Armenian Church of Fowler. Each year the site of the commemoration rotates and is hosted by one of these local churches.
The evening's events began with a moving celebration of the Divine Liturgy and prayers for the Armenian martyrs. The Liturgy was celebrated by parish priest Fr. Vahan Gosdanian, who also gave the homily in Armenian, with an English homily by Rev. Ara Guekguezian, pastor of Pilgrim Armenian Congregational Church.
In a moving conclusion to the service, Rev. Guekguezian reaffirmed the resilience of faith against the changes that time brings, proclaiming that "empires come and empires go," but that the relationship of Armenians to God has been, and will continue to remain, steadfast.
Following the services, students from the Keyan Armenian Community School of Fresno presented a tableau from the period in the Church hall. The children were dressed as Armenians of the fifth century and recited poems and sang hymns of the period.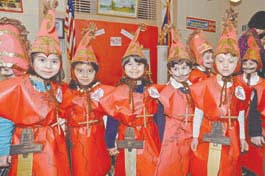 A brief history of events shows that the Armenian people, led by Vartan Mamigonian and by the Armenian Church, stood to lose everything by defending their religious beliefs.
Armenia was partitioned between two superpowers, the Byzantine Empire and the Sassanid Persian Empire, and the Armenian lands were persistently fought over by them.
In 450 A.D. King Yazdigerd of Persia attempted to forcefully convert the Christian Armenians to Zoroastrianism, to the worship of the Persian sun god Mazda, and went as far as to hold the nakharars (princes) hostage until they submitted. A few of the families converted, but most remained steadfast. By the spring of 451 peace talks broke down and the Persians attempted to cut off Armenia from her allies and to impose their religion over the entire land.
In the summer of 451 General Vartan, having rallied his fellow Armenians around the Church, led an army of 66,000 to the banks of the Dghmoud River, on the eve of the Feast of the Pentecost. Standing up against the powerful Persian army, estimated to number between 100,000 and 200,000 strong, the vastly outnumbered Armenians fought to the death. By the end of the battle 1,000-plus Armenian warriors had died, including General Vartan.
General Vartan, who was sainted by the Armenian Church and hailed as an Armenian national hero, today stands as a symbol of the struggles Armenians have had in keeping their religious beliefs.
Christianity is a vital piece of the Armenian identity, and during the past 1,700 years has proven critical for the resilience the Armenian people