Suren Oganessian
Staff Writer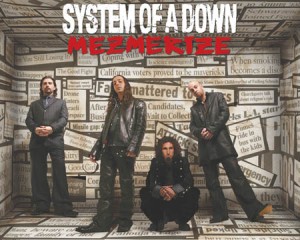 For fans of alternative rock, perhaps the most anticipated news of 2011 was that the band "System of a Down" was going to reunite for a world tour. The band had disbanded in 2006, at what may have been the very height of their popularity to pursue other endeavors. Fans instead had been quenching their thirst for more "System of a Down" by following the group's separate projects since the split-up. Guitarist and vocalist Daron Malakian and drummer John Dolmayan went on to form "Scars on Broadway," and Serj Tankian released two solo albums. Although critically acclaimed, their solo efforts never made quite the dent that "System of a Down" had made on the mainstream rock scene, like the five albums they had produced together since 1998.
"Scars on Broadway" had a somewhat different sound from "System of a Down," with Malakian on vocals. He did provide background vocals on "System of a Down's" last two albums Mesmerize and Hypnotize, making "Scars on Broadway" more reminiscent of their later work.
Serj Tankian's two solo albums, Elect the Dead and Imperfect Harmonies, have, on the whole, a more melodic sound than most of "System of a Down's" work, while still containing some fast-paced tracks as well. More notably, his work lacks the absurdity of many of "System of a Down's" tracks. His songs often touch upon deeper and more serious topics, such as "Borders Are," a song about the territorialism humanity engages in, and "Yes, It's Genocide," a song done completely in the Armenian language dedicated to the Armenian Genocide.
In late 2010, "System of a Down" finally announced its reunion tour to great fanfare; over the past summer they toured Europe and western North America. Currently, they are touring South America, having attended the famous Rock in Rio festival on October 2, 2011.
But, is the reunion permanent? The band has been very secretive about its future plans, and has been silent on the question of whether or not they might release a new album.
"We have no master plan of sorts," said a statement on their website, "we are playing these shows simply because we want to play together again as a band and for you, our amazing fans." As it is, Serj Tankian has claimed in interviews to have already penned songs for future albums for his solo project, and recently contributed a song to the soundtrack of Batman: Arkham City. So the future of "System of a Down" after the tours is still a mystery to everyone, except for perhaps its members.