Sarah Soghomonian
Staff Writer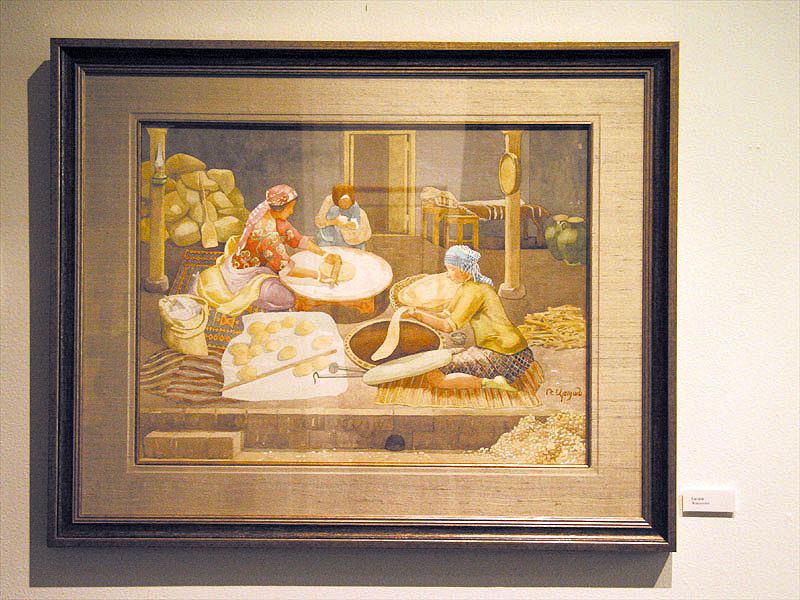 The work of famed Armenian artist, and now Fresno resident, Rafael Atoian was on display throughout the month of November in the President's Gallery on the Fresno State campus.
The exhibit titled "Motherland" showcased Atoian's great talent and love for his Armenian homeland. "My motivations are always Armenian," Atoian, 75, said. "I always make sure my art has a taste of Armenia."
The collection of watercolor and oil paintings on display were pure Armenian. A landscape titled "Sevan" depicts the famed lake. "Lavash," a watercolor of women making Armenian bread, hung for all to see. An oil painting titled "Evening Bells" featured a beautiful Armenian Church. Atoian, a self-proclaimed "nationalist artist," was born in Gumri, Armenia, but lived the majority of his life in Yerevan.
Atoian's 3rd grade teacher discovered his artistic ability when he drew a map of the world for a class assignment. His teacher enrolled him in art school. Atoian's son, Avo, said his father's parents didn't approve. "As the oldest boy in the house his job was to take care of his family," he said. " How can an artist provide for his family?"
Despite his parent's initial disapproval, Atoian continued to attend art school. He practiced his craft at the Mergorov Art Institute and the Terlemezian Art School of Yerevan. Atoian also attended the Yerevan Art and Theater Institute, where he graduated with distinction.
Realism is key to Atoian's work. His art depicts aspects of daily life. Atoian paints what he knows. "He is inspired by his people and the nation of Armenia," Avo Atoian said.
An example of that realism is evident in "Butter Churn," one of Atoian's favorite pieces. The painting of butter being made hangs in the National Gallery of Armenia in Yerevan.
Atoian gained fame and recognition throughout Soviet Armenia. In 1982 he was named "master painter" by the Republic of Armenia. The Soviet government showed their admiration for Atoian by presenting him with a medal and banning the removal of his work from the country. "He changed Armenian art forever," said his son Avo. "He's the Cezanne of Armenian painters."
Color plays a large role in Atoian's art. His watercolor and oil paintings are rich golden hues. "They call him the golden artist because he uses a lot of gold and yellows in his paintings," Avo Atoian said. Atoian's art is on display throughout the world. His life-like stills and landscapes hang in Yerevan, Paris, Moscow, San Francisco, and Los Angeles.
"Street in Leninakan," is part of former president George H. W. Bush's private collection. Bush acquired it on a trip to Armenia in the 1980's. It now hangs in his Washington gallery. Atoian immigrated to the United States in 1995 with his wife Ludmila and two of their three children. The images of Armenia that Atoian loves to paint are now only memories embedded in his mind.
As for the future, Atoian says that he will continue to paint until the day he dies.