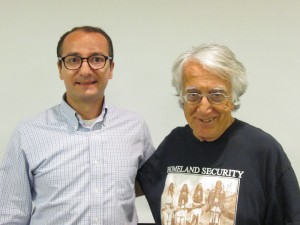 Alina Arakelian

Staff Writer

Radio personality David Barsamian was a guest speaker in Dr. Khatchig Mouradian's Armenian Genocide class on Wednesday, November 2. Barsamian is known for his weekly radio show "Alternative Radio" which is in its 30th year. He is a winner of the "Media Education Award" and the ACLU's "Upton Sinclair Award" for independent journalism.
Barsamian began his lecture by highlighting the connection between the Armenian Genocide and the Holocaust through the experience of German Consul Max Erwin Von Sheubner-Richter, who witnessed the deportations of Erzerum in World War I. Von Sheubner-Richter sent reports to Berlin informing authorities that the Armenians were being "attacked and exterminated" by the Turks and Kurds. Barsamian later discovered that Hitler dedicated Mein Kampf to Von Sheubner-Richter. Barsamian went on to explain that it is important to continue to remember the Armenian victims of the Genocide and to learn from the experience.
Barsamian then examined how the American media selectively focuses on the atrocities committed by enemy powers rather than its own allies. According to Barsamian, some victims are considered more worthy than others in the attention they receive from the media.
He explained that propaganda consistently portrayed the citizens of enemy countries being persecuted by their own governments as worthy victims to cover in the news.
"There is not a week that goes by that our best newspaper doesn't publish an article about some human rights violation in Iran. America has a tendency to focus on the abuses of its enemies rather than its own," he explained. He similarly argued that the American media does not focus on atrocities committed by India against Kashmir or Israel against Palestinians because of their close political ties.
"We have a textbook example with the Standing Rock Sioux Native American people fighting for their land in North Dakota… they are currently being attacked by state security forces."
When Barsamian asked the audience if they had ever heard of this event, only a few nodded in agreement. It demonstrated that such an event does not garner the amount of public attention it should because the American media does not want its citizens to be aware of the civil rights violations carried out by their government.
Barsamian concluded by highlighting the dichotomy between the "worthy" and "unworthy" victims in the context of the Armenian Genocide Centennial Commemoration.
Barsamian described how the Turkish government moved the commemoration of the Battle of Gallipoli to April 24 in 2015 in order to overshadow the coverage of the Armenian Genocide.
"Prince Charles and many other allied leaders chose to commemorate the Battle of Gallipoli in Turkey rather than give the Armenians the press that they needed to gain their recognition," said Barsamian. "This action demonstrated that countries decide which victims are worthy or unworthy based on political considerations."