WWW.FRESNOSTATENEWS.COM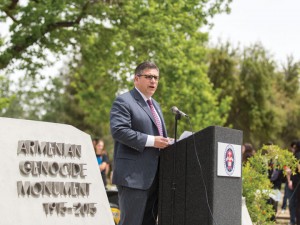 President Joseph I. Castro proclaimed Friday, April 24, as "Armenian Genocide Remembrance Day" at Fresno State.
Gov. Jerry Brown also proclaimed Friday "A Day of Remembrance of the Armenian Genocide" in the State of California.
Dedication of the new Armenian Genocide Monument was held at 7:30p.m. on Thursday, April 23 on the Fresno State campus.
"The Monument is a symbol of hope, education, memory and inspiration," said President Joseph I. Castro. Fresno State is the only campus in the United States with such a Monument, and there are three significant reasons why it is fitting to recognize the Armenian Genocide at Fresno State.
First, Fresno State is home to the top Armenian Studies Program in the country, a leader in teaching and scholarship in the field. Professor Barlow Der Mugrdechian and Dr. Sergio La Porta have worked diligently to advance the Program. Dr. La Porta is chair of the Armenian Genocide Centennial Fresno Committee, the umbrella association established to commemorate the 100th anniversary.
Second, Fresno State is a campus committed to diversity of individuals and diversity of thought. The campus received the 2014 Higher Education Excellence in Diversity award from "INSIGHT Into Diversity" magazine. Fresno State was recognized as a university that demonstrates an outstanding commitment to diversity and inclusion.
Third, we are committed to education, which is also at the core of the Armenian Genocide Monument. This monument will inform and educate people about the Armenian Genocide and bring awareness to the problem of Genocide throughout history and throughout the world as a global issue.
Castro said the monument, which was financed with community donations, demonstrates the University's commitment to human rights and justice on the 100th anniversary of the Armenian Genocide.