Staff Report
President Bush failed to characterize as genocide the Armenian Genocide of 1915 in his official statement issued on the occasion of the 86th anniversary of the Genocide.
In his signed statement, the President said, "Today marks the commemoration of one of the great tragedies of history: the forced exile and annihilation of approximately 1.5 million Armenians in the closing years of the Ottoman Empire. These infamous killings darkened the 20th century and continue to haunt us to this day."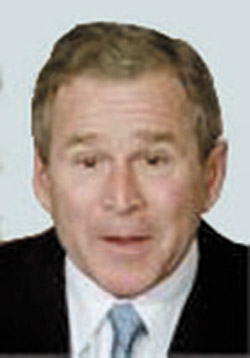 By so characterizing the Genocide, without using the word genocide, President Bush broke a campaign promise.
Over one hundred Members of Congress co-signed a letter urging the President to honor the commitment he made to Armenian-Americans during the presidential campaign. The letter asked President Bush to "acknowledge this brutal episode in human history and describe it for what it was – a genocide."
Members of both the US Senate and House of Representatives commemorated the Armenian Genocide by participating in a series of Special Order speeches following Tuesday's legislative business.
Senators Russ Feingold (D-WI), Dianne Feinstein (D-CA), Tim Johnson (D-SD), Edward Kennedy (D-MA), Carl Levin (D-MI) and Jack Reed (D-RI) made statements, with others expected to follow suit. The Co-Chairs of the Congressional Caucus on Armenian Issues, Representatives Joe Knollenberg (R-MI) and Frank Pallone, Jr. (D-NJ), organized the Special Order speeches in the US House of Representatives and invited their colleagues to join the annual bipartisan event.
In Fresno, reaction to the President's speech ranged from disappointment to outrage that he had broken his promise.