Staff Report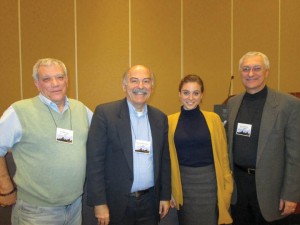 Society for Armenian Studies (SAS) President Barlow Der Mugrdechian chaired the 41st Annual Meeting of the Society on Saturday, November 21, in Denver, Colorado.
The Annual Meeting is an opportunity for members to discuss the major challenges of the Society and to hear a variety of reports. Der Mugrdechian reported on the activities of the Society during 2015, and presented plans for the upcoming year.
The Middle East Studies Association (MESA) was holding its annual conference the same weekend, and the SAS sponsored a panel as part of the MESA conference at 2:00PM on Sunday, November 22, entitled "Towards an Understanding of Identity: Ottoman Armenian Art, Literature, and Music," organized and chaired by Der Mugrdechian, with the participation of Jirair Christianian (Independent scholar, Denver), "Orphaned Armenian Objects in Istanbul: The Patriarchate Museum Collection"; Nora Cherishian Lessersohn (Harvard), "Armenian Self and Ottoman Society: Christopher Oscanyan's Oriental and Turkish Museum in London (1853-54)"; and Ron Marchese (University of Minnesota, Duluth), "Sociological Implications in Armenian Religious Art in the Late Ottoman Period: Data from the Armenian Churches of Constantinople during the Second Armenian Renaissance-post 1700."
In his presentation Christianian discussed some of the significant art objects held in the Patriarchate Museum located at the Armenian Patriarchate of Constantinople. Armenians from diverse areas in the former Ottoman Empire produced these works of art, which represent the heritage of the entire Armenian people.
In her paper, Lessersohn explored the question of identity, and how the boundaries of identity were fluid in the 19th century Ottoman Empire. She explored the life and work of Christopher Oscanyan, a multi-talented and adventurous Armenian, who traveled and mingled freely in European courts as well as in the Ottoman Empire. His "Turkish Museum" established in London was a means of understanding Oscanyan's self-perception as an Armenian and as an Ottoman citizen.
Marchese presented an analysis of Armenian religious art, through the prism of those who created that art, especially that produced in Constantinople. His lecture explored how Armenian patrons played a key role in the production of Armenian art, especially in the later eighteenth through mid-nineteenth century. He also discussed the sociological implications of the art, and how they represented the pious work of generations of artisans.
Many other SAS scholars participated in individual panels during the MESA conference and Armenian Studies was well represented at the conference.