By Arpik Paraghamian
Staff Writer
The Fresno State Orpheus concert series entered its 22nd Season Saturday Oct. 14, 2000 with performances of Armenian and European compositions rendered by composers Alan Brett, Pierick Houdy, and Maurice Ravel.
The first piece was the world premiere of Brett's, The Fruit, to be Tasted, Was Torn from the Tree, a suite based on songs by Armenian composer and ethnomusicologist, Gomidas Vartabed. Angèle and Prof. Dickran Kouymjian commissioned the work.
Gomidas was a celibate priest who went on to become a doctor of theology in the late 19th century. He survived the Armenian Genocide of 1915, but its trauma caused him to suffer in a mental hospital in Paris until his death in 1935.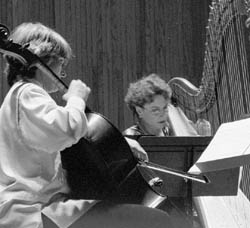 As Orpheus Artistic Director Jack Fortner stated in his program notes, Brett's title is "meant to express not only the disruption and pain of exile, but also the necessity of experiences in the development of all men."
Brett's musical translation featured Teresa Beaman on flute, Judy Robinson on cello, and Laura Porter on harp. Displaying their exceptional musical talent, the three women helped acquaint the audience with Armenian folk tunes such as, Gakavi yerk (Song of the Partridge) and Hoy, Nazan im (Oh, My Nazan).
Porter led the group of three charismatically, plucking her harp at the start of almost every piece to gain everyone's full attention before proceeding. Porter then had the chance to shine on her own, performing Houdy's, Sonate pour harpe. She and her elegant instrument devoted a sense of gracefulness to the rest of the evening.
Moving on to Brett's, Divertimento for String Quartet, Robinson on cello, joined John Morrice and David Margetts on violin and Claudia Shiuh on viola. The quartet played in sync with one another, picking up for pizzicatos and returning with a vengeance during the more aggressive parts of the composition.
The quartet complemented each other in all four parts of Divertimento, nodding and making eye contact to let one another know they were ready.
After the intermission, Beaman returned to the stage with her flute to perform a short solo piece, Syrinx by Claude Deboussy, followed by Porter and her intimidating harp whose beautifully crafted features and irreplaceable sound stole the show in Gabriel Fauré's Sicilienne from Pelleas and Melisende.
This segment replaced Maurice Delage's Four Hindu Poems due to soprano Phyllis Perry Fortner's laryngitis. The last piece, Introduction and Allegro, by Maurice Ravel incorporated all the previous musicians adding Professor Miles Ishigaki on clarinet and Jack Fortner conducting. The seven players captured the audience with harmonious sets, breaking every now and then for a harp or flute solo. Porter seemed to lead the rest of the group with her confidence in playing the harp; caressing its many strings in a call made the other six musicians reply promptly.
The audience was left uplifted by the final piece whose preciseness and clarity must have required countless hours of practice. Orpheus will continue with its enriching concerts next semester with East meets East, when Eastern European works will collide with Middle Eastern folk music. This upcoming program will feature The James Karagozian Middle Eastern Ensemble. The show will be on Feb. 3, 2001 at 8 p.m. in the Wahlberg Recital Hall. Admission is free.