RUZAN ORKUSYAN – Staff Writer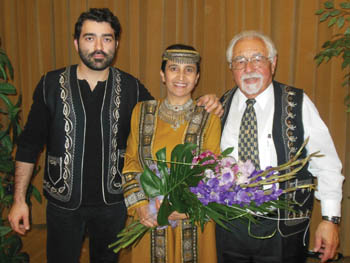 "On the Wings of Song," we traveled to our ancestral lands, captivated by the haunting beauty of the glacial melodies, the impeccable blending of luminous voices and instruments, and the delicate fusion of art and history. Traveling back in time, we escaped the toils of everyday life to witness the gentle love of Armenian mothers and the inextinguishable patriotic flame persistently raging generation after generation.
The stirring concert held on Sunday, February 23, sponsored by the Holy Trinity Armenian Apostolic Church and a number of local patrons and businesses, featured unforgettable songs from three generations of Armenian musicians.
Hasmik Harutyunyan, world-renowned folk singer, member of the acclaimed Shoghaken Ensemble, and Meritorious Artist of the Republic of Armenia, cradled the audience with her poignant lullabies and love songs. Together with budding singer, songwriter, and musician Raffi Semerdjian, they roused the audience with patriotic songs of the Armenian homeland and Karabagh.
Throughout the program, the great Armenian oud master, Richard Hagopian, accompanied Harutyunyan. According to Harutyunyan, it was a dream come true to perform on the same stage as Hagopian, who is a Central Valley native and America's foremost player of the oud. It was a great privilege to hear Hagopian, recipient of the National Heritage Fellowship, the nation's highest honor for traditional artists, perform timeless folk songs.
Highlights from the diverse program included a lullaby medley performed by Harutyunyan and Hagopian that chronicled a geographical journey through Moush, Dickranagerd, Taron, Talish, and finally Kessab. Harutyunyan's soft and flowing voice rocked the child to sleep as the audience listened, mesmerized by the slight changes in intonation and story that marked the transition from one region to the next.
Harutyunyan and Hagopian continued with songs such as "Koon Yeghir Palas," "Yeraz," "Bingyol," and "Dark Black Clouds." Raffi Semerdjian presented several solo numbers including "Karabagh im" and "Zartir vordya."
The program closed with the trio performing "Tsayn mu hnchets," a popular song among the audience who actively clapped and sang along, and finally "Hele, Hele." During this last song, two lines quickly formed to dance the "shoorchpar" or "circle dance" around the hall.
Overall, the concert was a success. Over 150 people, much more than anticipated, attended the lively event. According to Harutyunyan, our ancestors lost everything – family, home, and love; never-the-less, they preserved their songs, using them as vectors to transmit Armenian culture around the world and unite Armenian communities worldwide.
And indeed, against the backdrop of unique Armenian folk songs, the event on Sunday served as a platform for reconnecting with old friends and creating new friendships.