Andrew Esguerra
Staff Writer
As the Charlie Keyan Armenian Community School continues to thrive and expand, active Armenian community member and former educator in the Fresno Unified School District, Zaroohi Der Mugrdechian, took the reins as principal from former principal Sophie Mekhitarian this summer. As an Armenian Community School graduate, I talked with Principal Der Mugrdechian about the school and about her plans for the coming year.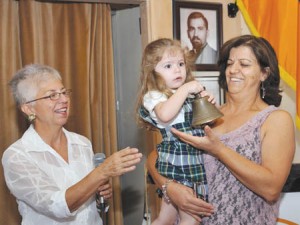 What is your vision for the school?
I would like to see the school gain accreditation from the Western Association of Schools & Colleges (WASC). We already have scheduled an initial visit [by the WASC committee] to the school for early 2012. Gaining accreditation will help get the school's name out in the community for the quality of the education it delivers and help earn grants to cover operating costs and special projects or programs unique to the Charlie Keyan Armenian Community School. Increasing the school's recognition and offering quality programs are also goals of mine.
How do you plan to achieve these goals?
Our teachers are going to go through training, in-services, conferences, and various classes provided by Clovis Unified School District to help improve their teaching skills.
I would like to get the students more involved with outreach projects with the community. Some examples would be wrapping presents for needy children during Christmas time, or participating in the Armenian Bone Marrow Donor Registry (ABMDR) Walk of Life in October.
I would also like to encourage parents to be more involved in the activities with the school [and their child's education] that will in turn make the school an even better place.
What important information do you think people should know about the school?
This is a private school completely independent of government funding that gives students an excellent education and also prepares them for success in continuing education and life beyond that. It also provides a strong emphasis on the Armenian culture, language and heritage.
How can the public support the continuation and growth of the school?
The public is welcome to participate in our activities and programs, which are excellent and engaging for all. We always welcome donations, contributions of property, or voluntary service and we put on great fundraising functions such as our banquet in November and our Crab Feed in February. Every dollar contributed to the school is tax deductible and goes to the sole beneficiaries, the students.