Lucie Ekezyan
Staff Writer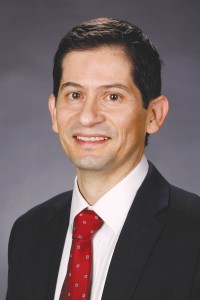 With a mission to enrich students with communication skills, humanistic values, and cultural awareness, Fresno State's largest academic unit, the College of Arts and Humanities began a new chapter when a new Dean, Dr. Saúl Jiménez-Sandoval, was appointed in January of this year. Dr. Jiménez-Sandoval plans to "establish new initiatives, new areas of collaboration with other schools, and to really make [the College of Arts and Humanities] known as the fundamental cornerstone of the university."
With roots in Zacatecas, Mexico, Dr. Jiménez-Sando-val moved to the United States with his family in 1980 and settled in Fowler. Dr. Jiménez-Sandoval earned a Ph.D. from the University of California at Irvine, and a certificate in Critical Theory from Cornell University. Specializing in late 19th century and early 20th century poetry, Dr. Jiménez-Sandoval chose this period to study because "it is when we have a break in the conception of the human being. We become complex, we become individuals."
Passionate about poetry, Dr. Sandoval believes that "it is poetry that interrupts the everyday; it is poetry that lets you know there is something much more powerful and significant than the routine." One example he provided demonstrated the importance of poetry. "The Genocide represents an interruption of a community, a violation of the community…the survivors become a representation of the triumph of the past. It is the poetic that gives us a sense of our responsibility for our present in relationship to the future in view of the generations of the past that have survived so we would be here."
As Dean of the College of Arts and Humanities, Dr. Jiménez-Sandoval aims to find a balance between "keeping the college solvent economically, but also keeping the College dynamic within the University and the community."
"The College is the heart of the university, it is what provides the other disciplines with critical and humanistic thinking skills that allow us to relate to each other on a more humane, social, and artistic basis," stated Dr. Jiménez-Sandoval.
Dr. Saul Jiménez-Sandoval's passion for arts and humanities extends to all the departments within the college—especially for the Armenian Studies Program. "The Program is a special part of the College," said the Dean. "It represents an area of study where students discover themselves and their past. It establishes a sense of social responsibility of what we as Valley residents have for the future." Additionally, Dr. Jiménez-Sandoval related the mission of his College to the mission of the Armenian Studies Program, "Crafting a way for fields of studies that makes a difference, and that is Armenian Studies."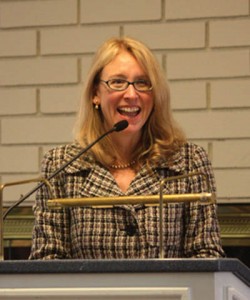 Sharing his vision of the future, Dr. Jiménez-Sandoval concluded, "I see the College fully integrated within the University, fully recognized for what it brings to the table, and what it affords the other disciplines. We will be in a very well established place."
Assisting the Dean is a new Associate Dean of the College of Arts & Humanities, Dr. Honora Chapman. Formerly a professor of Classics in the Department of Modern and Classical Languages and Literatures, Dr. Chapman shares the Dean's passion for the College and the students it serves.
She received her B.A. and Ph.D. in Classics at Stanford University. In 2002, she came to Fresno State and became Coordinator of Classics. She received the Provost's Award for Promising New Faculty and tenure in 2006. She served as Director of the Smittcamp Family Honors College from 2009-2014.
Together the new team will lead the College of Arts & Humanities for many years.