Staff Report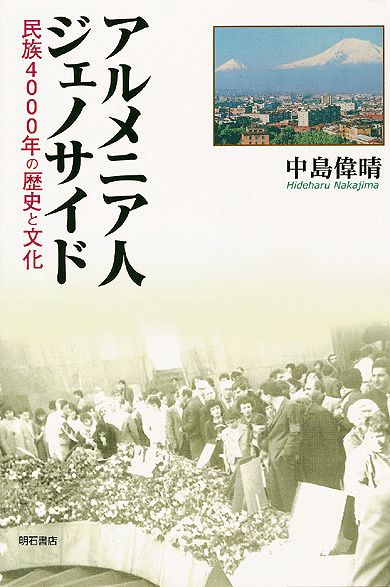 Prof. Hideharu Nakajima, President of the Japan Armenia Friendship Association, has recently published The Armenian Genocide: The History and Culture of the Armenian People (Akashi Shoten CO., Ltd., April, 2007).
Prof. Nakajima dedicated this book to the "memory of over a million innocent Armenian victims killed by the brutal, systematic massacres ordered by the Turkish government [in] 1915." This is Prof. Nakajima's second book on the Armenians-his first, Armenia: A Flash of Hope in the History, was published in 1990.
Prof. Nakajima was born on December 23, 1939 in Tokyo. In 1964 he graduated from the Politics and Economics faculty of the Waseda University and soon after he joined the Petroleum Association of Japan, where he worked in the public relations department. At present he lectures on Armenia at the "Paidea" College of Wako University, Tokyo.
Prof. Nakajima first visited Armenia in 1980 and after that began to study Armenian history. Since then he has visited to different regions of the Armenian Highlands: Kars, Ani, Igdir, Van Castle, Aghtamar, Bitlis, Diyarbekir, Kharberd, Mezre, Echme, Erzerum, and Moush. He has written articles for different magazines on Armenia, the Artsakh conflict and the southern Caucasus.
In 1984, he decided to establish the Japanese Institute of Armenia. In 1991, all the Japanese who were interested in Armenia gathered together to found an official organization, which was named the Japanese Institute of Armenia (now called the Japan Armenia Friendship Association). The Japan Armenia Friendship Association (JAFA) was created for the purpose of promoting mutual understanding between the Japanese and Armenian peoples. JAFA promotes the study of Armenia in Japan, holds meetings and exhibitions, publishes and distributes the newsletters Ararat and Arax, and organizes tours to the Armenian highlands for the deeper understanding of Armenian culture and lifestyle.
The Japan Armenia Friendship Association home page is http://homepage3.nifty.com/armenia