Tatevik Hovhannisyan
Staff Writer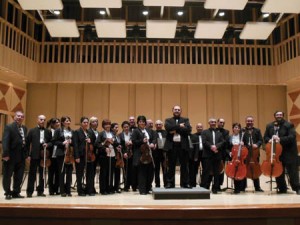 The works of composer Aram Khachaturian are always beautiful to listen to, but when they are performed by an Armenian orchestra, the same compositions transport the audience to another world—the Armenian world.
On Saturday, November 16, the National Chamber Orchestra of Armenia visited Fresno for a concert dedicated to the 110th birthday of Aram Khachaturian, one of the greatest composers of the 20th century.
The concert was organized by the Charlie Keyan Armenian Community School of Fresno in cooperation with International Competitions and Festivals, Inc., and in partnership with the Ministry of Culture of the Republic of Armenia.
The event took place in the Paul Shaghoian Concert Hall, filled with an audience excited to enjoy a delightful evening of beautiful music, under the direction of Robert Mlkeyan.  The National Chamber Orchestra of Armenia (NCOA) was formed in 1962 in Soviet Armenia and recently celebrated its 50th Anniversary. One of the many talented members of the NCOA is Artistic Director and Principal Conductor, pianist Vahan Mardirossian.
The program began with the performance of a popular Mozart composition "Eine Kleine Nachtmusik" (A Little Night Music) followed by Haydn's "Piano Concerto in G Major," featuring Mardirossian. "I really enjoyed the concert," said community member Narine Orkusyan. "We don't always have classical concerts with Armenian music, so this was a very nice change. I enjoyed all of the compositions, but the second half was closer to my heart."
Beautiful Armenian pieces followed the intermission, beginning with a medley by Komitas Vartabed: "Ay Aylughes," "Kele-Kele," "Shogher Djan," "Habrban," "Erkinqn Ampela," and "Vagharshapat." This was followed by an exquisite composition called "Shushanik" by Edvard Mirzoyan, which carried the audience to another world, with the help of first violinist Astghik Vardanyan, who performed with great emotion. The evening concluded with the most dazzling piece, "Khachaturiana" by Ruben Altunian, based on the popular compositions of Khachaturian, such as "Sabre Dance," "Waltz Masquerade," and the "Dance of the Rose Maidens."
The musicians poured their soul into the music and mesmerized the audience. Armenian Students Organization President Vartush Mesropyan commented, "When I listen to classical music it makes me feel calm and at peace. The NCOA performed beautifully-it was breathtaking."
The audience was so pleased with the orchestra that they did not want the evening to end, filling the auditorium with loud applause and calls of "Bravo." Following an encore, the audience departed deeply satisfied with the exceptional evening of music.