Tadeh Issakhanian
Staff Writer
The Armenian Studies Program is both honored and excited to welcome Dr. Khatchig Mouradian as the 13th Kazan Visiting Professor of Armenian Studies at Fresno State for the Fall 2016 Semester. Dr. Mouradian is teaching a three-unit course entitled "The Armenian Genocide and its Aftermath," in addition to giving three public lectures under the general heading of "Genocide and Resilience."
Dr. Mouradian's course is focused on the organization and implementation of the Armenian Genocide, the humanitarian and armed resistance to it, and the long shadow of the crime in Turkey and among Armenians.
The course also focuses on comparative aspects of genocide that are not exclusive to the Armenians, including resistance to genocide and the agency of victims of genocide.
Dr. Mouradian wants students to develop a better understanding of power dynamics, how resistance works, and how these dynamics play out in everyday life.
When asked what makes this course unique, Dr. Mouradian said that this is the first class he has taught where the majority of students are of Armenian heritage.
"I want the students to understand their own connection with the past and the challenges the Armenian communities face to this day," said Dr. Mouradian. "It is important for them to see their role and their place in this continuum and how they choose to define it in light of everything they know and learn through the course."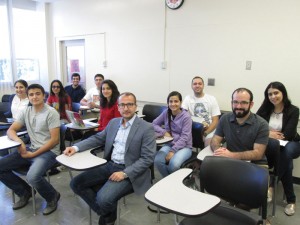 Dr. Mouradian is working towards several goals, one of which is turning his dissertation into a book. Another of his goals is documenting what remains of Armenian churches, monuments, and cultural heritage.
He has visited historic Armenia twenty-four times since 2010, and has interviewed Turks and Kurds who have rediscovered their Armenian roots. He would eventually like to write a book about this topic.
Prior to his arrival in Fresno, Dr. Mouradian was the Program Coordinator of the Armenian Genocide Program at the Center for the Study of Genocide, Conflict Resolution and Human Rights at Rutgers University, where he also taught courses in the History and Sociology departments. In 2016 he completed his dissertation, entitled "Genocide and Humanitarian Resistance in Ottoman Syria, 1915-1917," through the Strassler Family Center for Holocaust & Genocide Studies at Clark University.
Dr. Mouradian became the first Ph.D. recipient under Dr. Taner Akçam, who is widely considered one of the leading international authorities on the Armenian Genocide.
Dr. Mouradian has been studying, writing, and lecturing on Armenian history since 2000. He was a junior editor of the Lebanese-Armenian daily newspaper Aztag from 2000 to 2007. He moved from Lebanon to Boston in 2007 and took on the role of editor for the Armenian Weekly, until 2014.
In the same year, Dr. Mouradian received a Gulbenkian Foundation Armenian Studies Research Fellowship to study the Armenian community in China, which began to develop in the late 19th century. Dr. Mouradian has lectured and participated in conferences all over the world, including Armenia, Lebanon, China, Syria, and Turkey.