Mitchell Peters
Staff Writer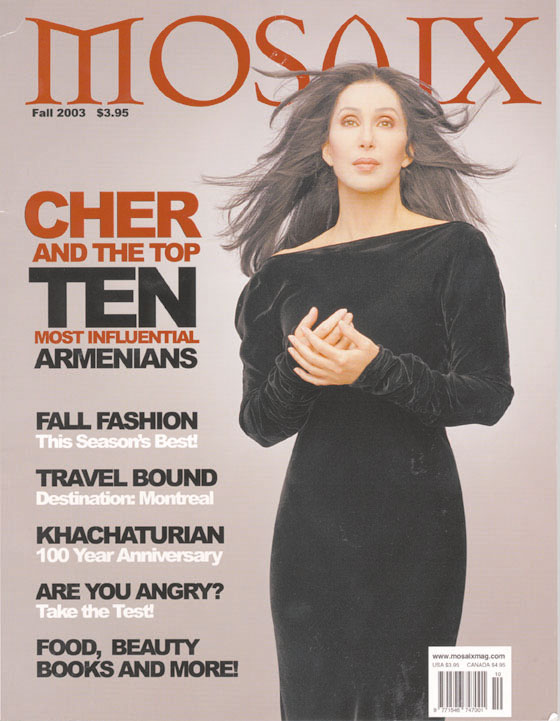 Looking at the first issue of Mosaix, a new high-end Armenian lifestyle magazine, one might think that he was flipping through an Armenian version of Vanity Fair.
The cover of the fall 2003 issue angelically displays the beautiful Armenian pop singer Cher, who the magazine deems as one of the top ten most influential Armenians, while also exploring the world of fashion, art, travel, health, finance, entertainment, food and fitness. With a crossover appeal that is geared toward both a young and mature audience, Mosaix Magazine provides something of interest to people from all walks of life.
"We are a young, hip publication," said Tamar Kevonian, publisher of Mosaix.
The new monthly magazine will focus on issues facing the nearly one million Armenians living in North America with subject matter that isn't restricted to topics about Armenians only. With this, Mosaix hopes to reach a larger mainstream audience that isn't restricted to Armenian readers only, she said.
"We don't feel it matters whether somebody is Armenian or not to be involved with the magazine," Kevonian said. "We're not just looking at things that are about Armenians, but what interests us."
In contrast to other Armenian-oriented magazines, Mosaix is a non-political magazine that focuses on contemporary social issues. Rather than focusing on the country of Armenia itself, Mosaix attempts to localize their subject matter to a national level. "Through the magazine we're trying to create a community," Kevonian said. "It's what's happening on a national scale."
The magazine was first conceived when Kevonian and a friend, now editor-in-chief R. Alexander Jaime, determined that there were no publications that served the Armenian community in a non-partisan and non-political fashion.
With virtually no experience in publishing magazines, Kevonian decided to surround herself with a team of people who have experience in putting together publications. Instead, Kevonian brings with her a background in business along with her knowledge and ties to the Armenian community.
"Overall, the responses have been extremely positive, far above industry standards," she said. "We value everyone's opinion. Along with the chic advertising and educationally entertaining articles, Mosaix provides crisp, colorful pages, which inform its readers in a non-confrontational fashion. The wide range of content should accommodate anyone who picks it up.
"There's something in it for everyone," Kevonian said. Mosaix is currently available through subscription and is sold on newsstands in some regions. Subscriptions can be done through their website, www.mosaixmag.com, or by mail, P.O Box 1164, Burbank, California 91507